Endangered primate born at zoo in England
Monday 17 March 2014 15.38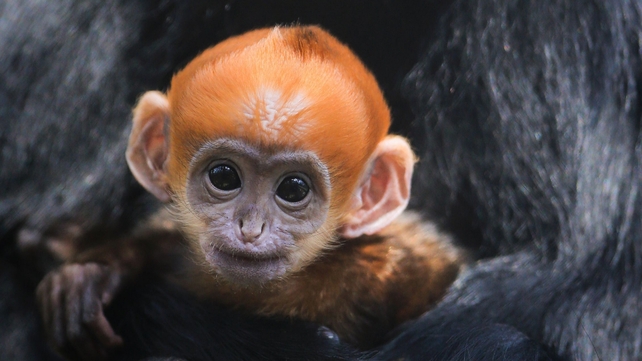 One of the world's rarest primates, both in the wild and in captivity, has been born at a zoo.
The newborn Francois' langur is the first ever of its species be born at Howletts Wild Animal Park, near Canterbury, Kent, and is a step towards the conservation of the endangered species.
Francois' langurs, which are listed as endangered, are born with striking red fur, which will gradually darken until they are one year old and turn black, a spokeswoman for the zoo said.
The primates live in a matriarchal group that is led by females, who share parenting duties between them.
The species is native to north-east Vietnam and southern China, where they live at a slightly higher altitude than most langurs, the spokeswoman said.
They inhabit semi-tropical monsoon forest and well-sheltered areas in limestone ranges, but because of major changes in land use the population of Francois' langurs has diminished.
Their population in the Guangxi Province in China alone has decreased by 85% as a result of hunting and habitat loss, the zoo said.
Matt Ford, head of primates, said: "This is the first time that we have bred Francois' langurs at Howletts so it is a very exciting and important time for us.
"We are still trying to work out the sex of the newborn Francois' langur, as the female is a first time mother and will therefore keep the infant tucked away out of view for longer."