Today in the press
Monday 31 March 2014 08.54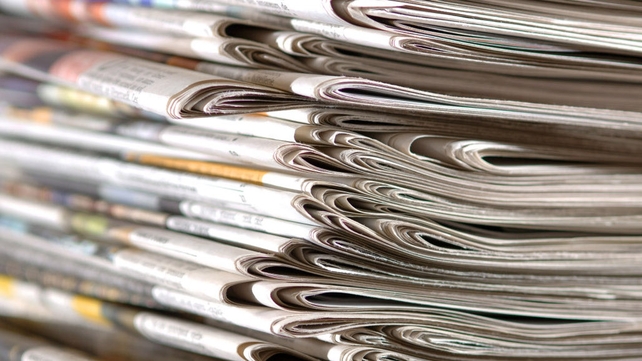 VHI GETS MAY DEADLINE FOR CENTRAL BANK AUTHORISATION - VHI has been given a deadline of May by which it must apply for authorisation from the Central Bank, as the European Commission steps up pressure on the insurer to move to a fully regulated model, says the Irish Times. The commission has been intensifying its scrutiny of the Irish health insurance market, following the recent 12-month extension of the deadline by which the Government must adhere to the terms of a European Court of Justice ruling which found VHI's status as a non-regulated entity to be discriminatory. Officials from the Department of Health have held discussions with senior officials from the commission's directorate-general for competition amid concern in Brussels that the State has missed a number of deadlines on the issue. VHI has now been given an effective deadline of May by which it must apply for authorisation by the Central Bank, the Times understands. According to individuals involved in the discussions this is to ensure the Government meets the December 2014 deadline announced in December. While a key element of the authorisation process is the requirement that VHI has a sustainable business model - an issue that rests on the form of risk-equalisation scheme that will be adopted - the other central element is the insurer's adherence to solvency requirements.
***
CREDIT UNIONS TO GET THEIR OWN DEBIT CARDS - Credit unions are lining up to take on the banks, with large numbers now set to provide electronic payment options to members, writes the Irish Independent. And the locally owned lenders are also about to apply to the Central Bank for approval to offer debit cards. The combination of electronic payments and the ability to offer debit cards will see credit unions putting it up to the banks by offering an alternative to banks' current accounts. Recent research by Dublin City University finance lecturer Dr Michael Dowling found that a family with two current accounts will end up paying €260 this year in fees and charges. AIB, Bank of Ireland and Ulster Bank have introduced and then hiked charges and fees for day-to-day consumer banking services. Now it has emerged that five credit unions have already launched online payment services. This will allow members to have their wages or pension paid directly into their member accounts and make payments out electronically. Credit unions in Malahide, Co Dublin; Clara, Co Offaly; Rathfarnham, Co Dublin; Carrickmacross, Co Monaghan; and New Ross, Co Wexford, are up and running with the new system.
***
PRE-PACK FISH REELS IN SALES FOR KEOHANES - A novel packaging idea has paved the way to success for Keohane Seafoods, writes the Irish Examiner, with the Cork company hoping to grow exports by between 20%-25% in the next three to four years. Innovative skin-tight packaging has helped Cork company Keohane Seafoods grow a turnover of €11m in four years and scoop the overall Small Firms Association small business award for 2014. Selling to several multiples in Ireland and to Tesco UK, the company was the first in Ireland to offer pre-packaged skinfilmed fish and the first in Europe to develop microwaveable skin-filmed packs for frozen fish. "The skintight packaging removes the air from the product and adds an extra two days of shelf life to fresh fish. The value added microwaveable packs with sauces are created for those who are afraid of cooking fish,'' says managing director Colman Keohane who set up the company with his father Michael and brother Brian in 2010. The Keohanes observed that fish sales were rising in Ireland and noticed that while pre-packaged meat had become very widely available in supermarkets, pre-packaged fish wasn't very well supplied. They also identified opportunities for value-added convenience products.
***
US ENERGY BOOM FUELS POPULATION AND INCOME GROWTH - The US energy revolution triggered population and income growth last year in regions mainly west of the Mississippi river that are rich in oil and gas, data show. The US census bureau last week cited the "energy boom" as a main driver of "rapid" population growth in several cities and counties across the Great Plains between 2012 and 2013, reports the Financial Times. The Bureau of Economic Analysis found personal income growth in states at the centre of the production surge, led by North Dakota, outstripped the rest of the country. The data will solidify hopes that higher domestic energy production could be an antidote to the sluggish economic growth and weak labour market that has marked the recovery from the recession of 2008 and 2009. US business groups and Republican lawmakers are putting increasing pressure on the Obama administration to lighten regulation, free up more federal land for exploration, and boost exports of fossil fuels to accelerate the economic gains. "This is an example of dynamism - it's a wonderful thing about the American economy that it can respond so nimbly to opportunities like this," said Michael Strain, an economist at the conservative American Enterprise Institute think-tank. "What you're seeing in some of these areas is whole little economies springing up - in addition to the jobs there are restaurants and bars, hotels and retail stores opening up. It's fantastic," he added. But there are also doubts that America's shift towards more of a commodity-based economy will deliver broad benefits to middle-class families beyond the areas that are directly affected, in addition to concerns about increased vulnerability to price fluctuations and the environmental cost.