Today in the press
Monday 30 December 2013 14.37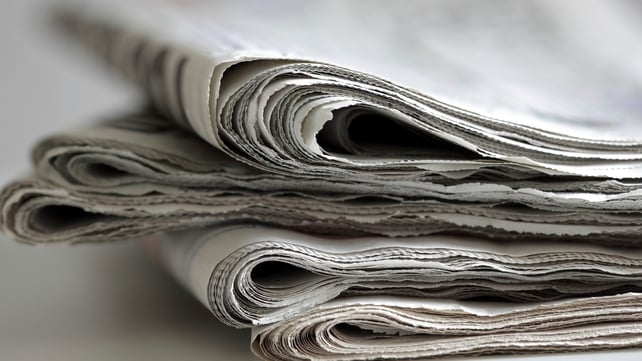 €405m NATIONAL LOTTERY SELL-OFF DELAYED AS DEAL TALKS DRAG ON - The €405m sale of the National Lottery licence has become the latest state-asset privatisation to be hit by delays. The deal was due to be signed before Christmas and half the cash - already earmarked for the new National Children's Hospital and for a jobs stimulus programme - was due to be paid over to the State by now. However, cash from the deal is no longer expected to reach state coffers in 2013, the Irish Independent has learnt. The December deadline for contracts finalising the terms of the sale to winning consortium Premier Lotteries Ireland - made up of UK lottery licence holder Camelot and An Post - passed without a final deal being in place. Last night, both sides insisted that the sale of the National Lottery licence remained on track, but admitted the December target for contracts to be signed by the Government and the consortium had been missed.
***
WAGE DEMANDS TO CHALLENGE RECOVERY, WARNS LRC CHIEF - Stifled demands for wage rises will pose a significant challenge to economic recovery, the head of the Labour Relations Commission has said. Kieran Mulvey said that "with recovery comes expectation". And he was already detecting, particularly in the more profitable areas of the private sector, "certain green shoots emerging around the pay issue", writes the Irish Times. He also warned of disputes over pensions, arguing that too many employers "are in a rush to abandon defined benefit pension schemes, as if one has the view, 'let's not waste a good crisis' ". Mr Mulvey said that with economic recovery workers would seek to recover their position, particularly in circumstances where they had a profitable employer and no pay rises for two or three years. "There is going to be a certain amount of pent-up pressure there to move." Some aspects of this had already materialised in the retail sector and in some profitable companies, he noted and added this would present not so much a threat but a challenge to the recovery process. The trade union Mandate, which represents staff in the retail sector, has secured increases of about 2.5%on average over the last year for more than 40,000 members of companies such as Dunnes Stores, Argos, Marks & Spencer, Penneys and Brown Thomas.
***
BUSINESS LEADERS MORE OPTIMISTIC ABOUT IRISH ECONOMY - A survey of nearly 500 executives has found that business leaders are overwhelmingly more positives about the economy than this time last year, says the Irish Examiner. Despite the positive sentiment expressed by the 472 Irish senior executives surveyed there was an admission by more than half that the loss of young talent through emigration was having a negative effect on their businesses. Ruth Curran of MERC Partners, who commissioned Amárach Research to carry out the survey, said that respondents expected the level of emigration to continue to grow. "Perhaps surprisingly, over half (51%) said it has impacted negatively, with one in eight saying that the impact had been significant. "The optimism revealed for the economy generally was not in evidence when respondents were asked about the likely future impact of emigration. Some 27% expect the rate to increase, while nearly half (47%) believe it will remain the same over the next three years. Only 27% believe it will decline," she said. There are grounds for optimism that businesses might be able to play a role in stemming the tide of emigration with almost half of those surveyed believing that by this time in 2014 their company will employ more people, and only 20% foresee a fall in the number of employees in their companies. With competition for certain skills growing there is no guarantee that new hires will come from Ireland.
***
BLACKSTONE TO INVEST $200m IN CROCS - Crocs' chief executive is to stand down and Blackstone will invest $200m in the US-based shoemaker as it continues to try to revive its fortunes and its brand. The company also warned on Sunday night that fourth-quarter revenues and losses would be at the worse end of guidance, which means sales will be about $220m, down from more than $300m in the past two quarters, reports the Financial Times. Crocs shot to prominence when its colourful lightweight rubber clogs became popular outside of hospital wards, but its shares have struggled since mid-2011 as changing fashions have brought a slowdown in western markets and a string of disappointing results in spite of good growth in Asia. John McCarvel, Crocs chief executive, told the FT in April that investors were unhappy with his and the company's performance because it had been failing to meet its own guidance on earnings and sales. The Blackstone investment will bring more retail expertise to the brand, the company said. Blackstone will get two seats on the board.