US consumer spending brightens economic outlook
Monday 23 December 2013 15.04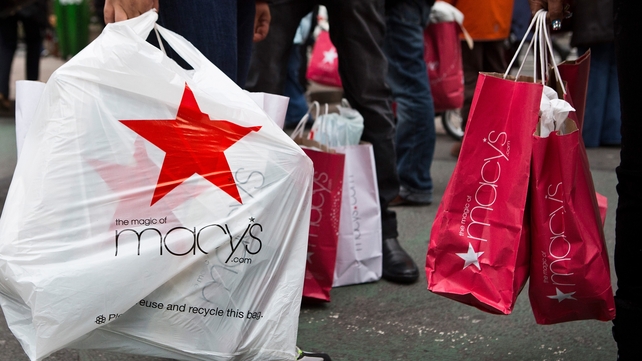 US consumer spending posted its largest increase in five months in November, the latest suggestion of sustained strength in the economy as the year winds down.
The Commerce Department said today that consumer spending rose 0.5% after advancing by a revised 0.4% in October. It was the seventh month of increases in a row and matched economists' expectations.
Consumer spending, which accounts for more than two-thirds of US economic activity, was previously reported to have increased 0.3% in October.
When adjusted for inflation, consumer spending increased 0.5% in November after rising 0.4% in October. November's increase in so-called real consumer spending was the largest since February 2012.
This indicates that consumer spending in the fourth quarter probably accelerated from the third quarter's 2% annual rate.
Spending is being boosted by improving household balance sheets, thanks to a rising stock market and house prices.
The report added to other upbeat data, such as employment and industrial production, in suggesting that the US economy retained some of its third-quarter momentum in the lead-up to the end of the year and was poised for faster growth in 2014.
It also fits in with Federal Reserve's upbeat view on the economy, which prompted the Fed to announce last week that it would start reducing its monthly bond purchases from January.
The economy grew at a 4.1% pace in the three months from July to September, the fastest pace in nearly two years, after expanding at a 2.5% rate in the second quarter.
International Monetary Fund managing director Christine Lagarde said over the weekend that the international lender would raise its growth forecast for the world's largest economy next year. The IMF forecast in October that the US economy would expand 2.6% in 2014.

Despite the signs of strength in the economy, inflation remains benign. A price index for consumer spending was unchanged for a second month in a row. Over the past 12 months, prices rose 0.9%. The index had gained 0.7% in October.
Excluding food and energy, the price index for consumer spending rose 0.1%, rising by the same margin for a fifth month in a row. Core prices were up 1.1% from a year ago, after rising by the same margin in October.
Both inflation measures continue to trend below the Fed's 2% target, which would suggest that it could keep interest rates near zero for a while, even as it reduces its monthly bond purchases.