UK's GDP growth revised upwards
Friday 20 December 2013 18.35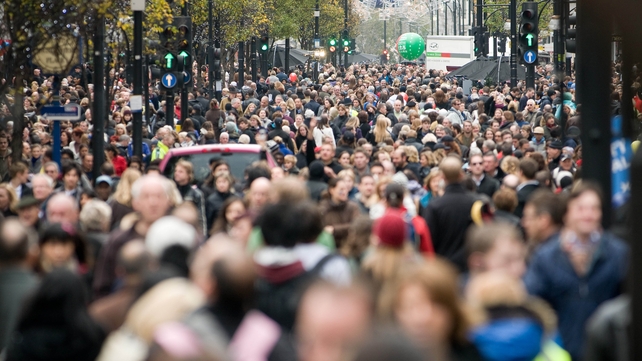 Growth in the UK economy was stronger than previously thought this year, according to revisions to official figures.
Gross domestic product (GDP) rose by 0.5% in the first quarter of 2013, up from a previous estimate of 0.4%, and by 0.8% in the second quarter, up from 0.7%, the Office for National Statistics said.
The figure of 0.8% for the third quarter remains unchanged but the revisions mean GDP is closer to its pre-recession peak than previously thought.
Britain is 2% off its pre-crisis level at the start of 2008, rather than 2.5% as previously thought, adding to hopes that the end of the prolonged economic downturn is close at hand.
Today's revisions also showed that 2012 growth was 0.3%, revised up from 0.1%.
But a slew of further data from the ONS is likely to fuel concerns about the nature of growth.
Britain's current account deficit with the rest of the world in the third quarter rose to £20.7 billion, or 5.2% of GDP - the highest percentage level for 24 years.
It came as the trade deficit widened, UK earnings on foreign investments fell, and foreign earnings on UK investments increased.
Meanwhile household spending in the third quarter was 2.5% higher than a year ago, the highest comparable growth since the first quarter of 2008.
Business investment saw a welcome rise of £800m to £53.6 billion compared with the previous quarter, though this has been largely flat over the last four quarters, ranging between £52 billion and £54 billion.
Elsewhere, public sector borrowing - excluding the effect of bank bailouts - was £16.5 billion in November, up £900m on the same month last year.
Central government receipts were up 4.6% to £41.2 billion as VAT and the income tax take rose, as did stamp duties - which were up by 23%, or £200m.
Spending by central government in the UK fell by 1.8%, or £1 billion, to £52.9 billion, including a £300m fall in net social benefit expenditure.
However, despite these improvements for the UK's finances, the overall borrowing figure rose because of changes to the way local authorities are funded.
Underlying public sector net debt rose to a new monthly record of 76.6% of GDP, with the previous high of 76.5% set in September.
Revisions to the third quarter performance of the economy showed that the construction sector - buoyed by government initiatives such as Help to Buy - did better than previously thought. It grew by 2.6%, revised up from 1.7%. Services also did better, expanding by 0.8% compared with the previous estimate of 0.7%.
The manufacturing sector fared worse, revised down by 0.1% to 0.8% growth.