Today in the press
Friday 20 December 2013 09.06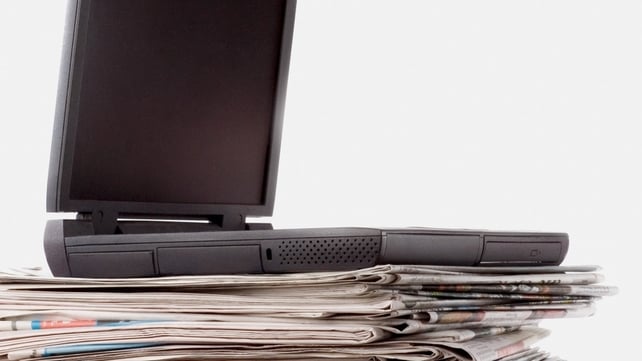 KENNY PROMISES HALF-PRICE LOANS - Representatives from the German development bank KFW have met with Department of Finance officials to explore ways of how it will provide half-price loans to Irish SMEs, Taoiseach Enda Kenny has revealed. Mr Kenny said he expects the German bank to offer Irish businesses much cheaper credit than what's on offer from the banks here, reports the Irish Examiner. "So, for instance, you know, a small and medium enterprise that would look for a loan of €500,000 at Irish rates would be about 4.25%, at German rates that would be 2%," said Mr Kenny. He said the difference in rates would mean "jobs, the retention of jobs, and the creation of jobs" for Irish companies. The move was originally signalled by Mr Kenny in the Dáil when he announced Ireland was opting for a clean exit from the EU/IMF bailout instead of seeking a financial backstop. The plan, approved by German chancellor Angela Merkel, will help Irish businesses invest and expand, especially the one in four which say they cannot access credit. KFW is a public bank and its official name, the Kreditanstalt für Wiederaufbau (Reconstruction Loan Corporation), gives a clue of how it was formed in the late 1940s under the Marshall Plan to help war-ravaged Germany in its reconstruction.
***
BROWN THOMAS PLANNING €9m MAKEOVER - Irish retailer Brown Thomas is planning to spend up to €9 million next year refurbishing the ground floor of its flagship department store on Grafton Street in Dublin. "We're going to put in a new beauty hall, we'll have new beauty brands coming in and we'll be refitting our accessories," managing director Stephen Sealey told The Irish Times. "It will refresh the ground floor and give it a lift and add to the offering in the store." The upmarket retailer also plans to invest about €850,000 to expand its online offering next summer. Launched in October at a cost of about €600,000 with a range of beauty products, Brown Thomas plans to add handbags to its online range in February, followed by shoes, sunglasses and certain fashion items later in the year. It will also offer customers a "click and collect" service that will allow them to pick up their items in store. "Our aim is to have about 50% of the store available online by the middle of next year," Mr Sealey said. Brown Thomas made an operating profit of €6 million on sales of €143.5 million in the 53 weeks to February 2nd, 2013, according to accounts just filed. While sales rose by 2%, its operating profit declined by 0.6% when compared with the previous financial period, which was 52 weeks long.
***
POLISH COURT UPHOLDS €26m RULING AGAINST CRH UNIT FOR PRICE-FIXING - CRH has remained silent after a Polish competition court upheld a 2009 ruling that saw a subsidiary of Irish aggregates giant CRH being slapped with a €26m fine for being involved in price-fixing, says the Irish Independent. CRH's Grupa Ozarow was one of six firms fined a total of €100m - the largest ever such fine levied in Poland - for being involved in fixing prices and determining market shares. CRH rival Lafarge escaped being fined even though it was involved in the cartel, because it agreed to cooperate with the Polish antitrust regulator under its leniency programme. The probe began in 2006 with raids on the cement maker's offices. A spokesman for CRH declined to comment yesterday. The following year, Grupa Ozarow was fined €530,000 for interfering with evidence that was being gathered as part of the official investigation. One of the company's workers had attempted to tamper with evidence during a raid on its offices in 2006. The Polish Office for Competition and Consumer Protection (OCCP) found that the cartel it broke controlled nearly 100% of the country's cement production and sales.
***
BANKING UNION FALLS SHORT OF EU GOAL - Nearly 18 months ago, with Ireland in an international rescue because of a bank bailout it could not afford, and Spain on the verge of a similar collapse, EU leaders came up with an unexpected solution: make Europe's banks the responsibility of Europe, rather than individual countries. The decision was as simple as it was surprising, writes the Financial Times. By shifting the burden of paying for collapsed banks from national treasuries to an EU-wide rescue system, never again would otherwise healthy governments be brought low by irresponsible bankers. The EU would break the link between governments and the banks that do business in their country. But as EU leaders congratulate themselves for nearly completing their so-called "banking union", many analysts and officials - including at the top of the European Central Bank, which is now responsible for supervising banks in the new system - worry that it has fallen far short of that goal. Instead of setting up a new, pan-European system that will shoulder the financial burden through pooled public funds, most of the burden - especially for the next decade - will continue to be the responsibility of national governments or private investors, who are newly on the hook for a significant chunk of the costs of a bank collapse. In other words, bank failures may no longer be shouldered mostly by taxpayers such as in Ireland's case. But they may look a lot more like Cyprus - where taxpayers and a large chunk of private creditors were all hit - something that may unnerve national treasuries and financial markets even more.