Britain to introduce plastic banknotes from 2016
Wednesday 18 December 2013 12.12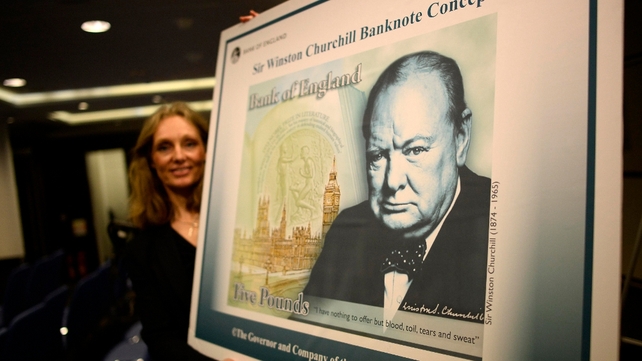 British banknotes will get a tough new makeover from 2016 when plastic replaces the traditional paper, enabling them to survive accidental spins in the washing machine, the Bank of England has said.
Britain will be the largest economy so far to adopt the more durable polymer material for general banknotes, after 87% of respondents approved the change in a public consultation.
The move will bring estimated savings of £100 million over a decade.
It will begin with £5 notes in 2016 at the earliest, with £10 notes arriving the following year.

Polymer notes were first adopted by Australia in 1988 and are now in use in more than 20 countries including Canada, the homeland of new BoE governor Mark Carney.
The British ones will feature World War Two leader Winston Churchill on the £10 note and 19th-century author Jane Austen on the £10 note.
"Ensuring trust and confidence in money is at the heart of what central banks do. Polymer notes are the next step in the evolution of banknote design to meet that objective," Carney said in a statement.
The notes will last about six years, more than twice as long as paper, allowing the Bank to make savings of 25%.
Apart from passing the washing machine test, the notes are more dirt-resistant than paper and consist of a transparent plastic film coated with an ink layer which can be wiped clean.
They will be harder to fake thanks to features like a transparent window.
Opponents of the move cited the slippery texture of the polymer, which the BoE said would reduce over time but added it would try to combat with raised print.
The new notes also fold differently to their paper counterparts.
The Bank added that the plastic notes would be 15% smaller to become more in line with the size of other international currencies and fit better in people's wallets.
The BoE originally decided to outsource banknote production in 2003, awarding the first contract worth £40 million a year to De La Rue. The contract expires in 2015 and the replacement is currently open to tender.
The BoE expects to enter a contract with Innovia Security to provide the polymer material, for which the company would set up a new production plant in 2016.
The BoE has issued paper banknotes ever since it was founded in 1694, and there are currently around 2.9 billion in circulation with a face value of about £58 billion.