Morning business news - December 18
Wednesday 18 December 2013 12.49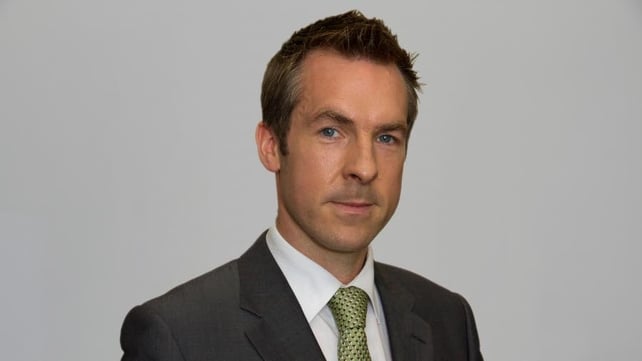 The economy has turned the corner and is poised for a return to good growth next year and in 2015. That's according to the Economic and Social Research Institute.
David Duffy, Senior Research Officer with the ESRI said the growth was partly driven by the labour market.
"We had strong growth in employment in the last quarter. That will feed into domestic demand. We expect to see personal consumption growing in 2014. That partly reflects some income growth and also a pick up investment levels in the economy."
David Duffy said this would make a small contribution towards growth in 2013 and a bigger contribution next year, when it sees the economy growing by 2.7%.
He said he believed the return to jobs growth was happening quicker than expected with a stronger pace of job creation in the third quarter.
That, he said, was the most likely explanation as to why the ESRI was more optimistic than the Government, which was predicting growth of 2% next year.
"Their forecast was prepared before the Q3 release of jobs numbers which contributed to us maintaining our forecast at 2.7%," he said.
David Duffy said the positive developments may mean the Government does not have to make as big an adjustment as originally scheduled in next October's Budget.
The ESRI had advised the Government to go with an adjustment of €3.1 billion in the last Budget instead of the €2.5 billion they went with.
"Our view was that because of uncertainty about the outlook we don't know what will happen now. We thought it would have been better to do full adjustment and see what happens over 2014. It may well be that the adjustment next year doesn't have to be as great."
+++
Euro zone finance ministers have reached tentative agreement on a crucial part of its overall plan for banking union.
That is how to fund the winding down of failed banks.
It's understood that under the agreement reached overnight, banks will contribute to a Single Resolution Fund which will eventually contain about €55 billion over ten years.
Until then, if there's not enough money, governments will be able to impose extra levies on banks.
If that doesn't suffice, they would help with public money.
If a government doesn't have enough money, it can borrow from the euro zone bailout fund, the ESM.
Finance Ministers now have about 36 hours now to seal an overall deal before EU leaders meet to sign off on it.
+++
The US central bank concludes its final monetary policy meeting of the year tonight.
The decision on whether to taper its bond-buying program will take centre stage.
It had been considered unlikely to happen until well into next year - with March as the most likley date - but since a budget deal was agreed in the US, it's now thought tapering could be announced as soon as tonight.
That budget deal will be voted on in the US Senate today - which is likely to pass.
If it passes, it will be sent to Barack Obama for his signature.
Ben Bernanke may also face a grilling from reporters tonight on bitcoin after he tacitly endorsed the digital currency last month saying it may hold long term promise.
Bitcoin prices rose over 8,000% this year but in recent weeks it fell from a high of $1,200 dollars per coin to $535.