Ibec calls for ambitious post-bailout growth strategy
Monday 16 December 2013 22.22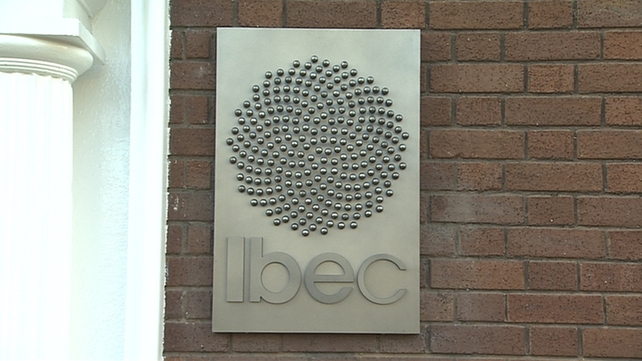 Business group Ibec has said the economy will grow by close to 3% next year, driven by a rebound in the domestic economy and a pick up in exports.
Ibec has also called on the Government to deliver an ambitious post-bailout growth and reform strategy.
Ahead of the Government's medium-term economic plan, Ibec has called for strict adherence to fiscal rules that will require more efficiency and reform in public sector spending.
Among other things, it wants income tax cuts in both marginal rates and bands, a maximum tax burden of 37% of GNP and all existing public servants to have their final pension based on career average earnings.
It has also called for more infrastructure to be delivered, an income-related higher education loan scheme, money for reforms to the school curriculum and an employer-led apprenticeship scheme.
In its economic outlook, it says it expects growth of 2.8% next year, with further employment growth of 2%, following an estimated 2.5% growth in jobs this year.
It says investment will rise by 15% next year, after a 10% gain this year.
Meanwhile, the director of the Nevin Economic Research Institute has warned against being overly optimistic at the rate of growth Ireland can expect to experience next year.
Tom Healy said the Nevin institute believed the economy would grow next year, but estimated it would be by around 1%.
He said: "There are changes happening in the pharmaceutical sector which is impacting quite significantly on exports and GDP at the moment."
He also said there is the continuing impact of austerity budgets on households, including household charges for next year and property tax.
Mr Healy said the economy was beginning to pick up but very slowly.
He said the employment increase was welcome but may not be sustainable at the current rate into the new year.
Mr Healy added that the Government deficit was falling but falling slowly.
He said unemployment and underinvestment remained two of the Government's greatest challenges.
Rate of growth will have clear impact on Budget
Tanáiste Eamon Gilmore has described the latest Ibec growth figures as "very encouraging".
Speaking as he arrived for a meeting of EU foreign ministers, Mr Gilmore said the rate of growth would have a clear impact on the budgetary position towards the end of next year.
He said: "It's very encouraging. The Government has projected growth of 2% next year. It is very encouraging that the largest business organisation in the country is now projecting a rate of growth which is higher than that.
"I assume that is based on their knowledge of what is happening on the ground in Irish industry and in Irish business."
Minister for Jobs Richard Bruton said the Government had set its own targets and would review them if necessary.
He said he was confident its targets could be met, but had no illusions about the challenges that lay ahead.
"We're confident that the way the economy is running that a lot of the targets we've set for employment can be delivered next year on the basis of the work we're doing," Mr Bruton said.
"We've no illusions that there are headwinds in Europe that can make things difficult, so those have to be assessed before the Government would revise its forecast.
"But I think there's optimism out there and that's palpable across most sectors and most in the private sectors are creating employment."