Morning business news - December 16
Monday 16 December 2013 10.44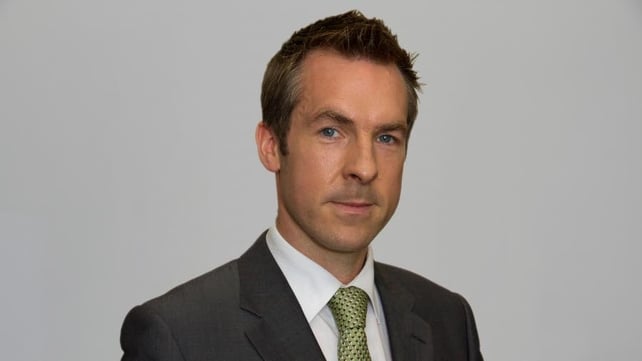 Following our exit from the Troika programme yesterday, business group Ibec is forecasting a robust return to growth next year with a rate of near 3%.
Fergal O'Brien, the chief economist with Ibec, said it wasn't just a promise of a return to growth but that it was already happening.
"We don't think the current GDP run of around 1% is actually truly reflective of what's happening in the real economy. The most accurate indicator of economic activity is the growth in jobs numbers which is running at over 3%. We're looking at 60,000 more jobs this year. We're heading back to what looks like a virtuous cycle," Mr O'Brien said.
The economist pointed that the jobs recovery was very broad-based and almost all created in the last quarter were full time. "The jobs are in the domestic economy, hospitality and even in construction. They're in the high end export sectors. Some of the sectors which had been dragging on the economy, like construction, are returning to expansion which is positive for a much more balanced recovery," he stated.
He said he believed the Government had got the balance right between fixing public finances and giving confidence back to the economy. "There is more adjustment to be done but we're doing at a time when the economy is growing. That will make it less painful and less damaging in terms of the overall economic outlook."
Ibec has also called for greater investment in infrastructure, equating to 4% of GDP every year between now and 2020.
"The economy is going to grow by 3-4% in the medium term. We're going to have strong population growth. We need to plan for that and make sure we don't get the choke points," Fergal O'Brien concluded.
***
MORNING BRIEFS - Independent News and Media is expected to receive approval today for the completion of the share sale it flagged last month as part of its effort to raise €43m in new capital. It i the final part of a debt restructuring exercise which will see the media company reduce its debt to €118m.
*** Business confidence among Japan's manufacturers is at a six year high, according to a central bank survey of business leaders known as the tankan index. The survey comes amid a renewed wave of optimism for Prime Minister Shinzo Abe's economic recovery programme. But economists warn that Japan still faces major economic challenges, including a huge public debt and shrinking population.
*** In contrast, a key manufacturing index in China fell to its lowest level in three months as output eased and employment weakened. That will add further to concerns that the world's second largest economy is still vulnerable to a slowdown.
***Overseas visitors to Ireland spent just short of €800m on Visa cards in the first nine months of this year. That is up over 20% on the same period the previous year and is seen by the company as evidence of sizeable growth in tourist numbers visiting the country as part of the Gathering. Spending by overseas Visa cardholders has primarily been driven by visitors from the UK and US. Spend by US visitors is up over 40%.