Today in the press
Monday 16 December 2013 14.24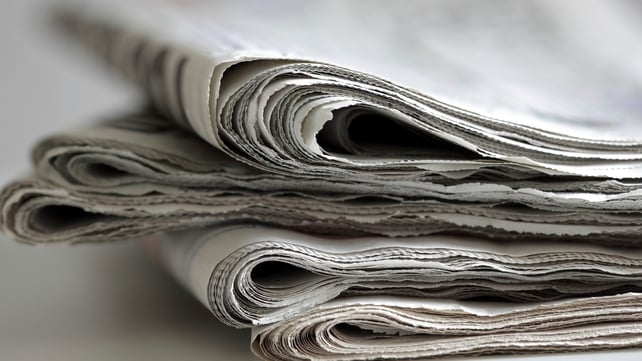 WAVE ENERGY PLAN MISSES OUT ON EU €20m - The Government has had to turn down €20 million in European Union funding awarded to the ESB's flagship wave energy project because the technology required is not ready, writes the Irish Times. The Westwave scheme is supposed to pave the way for commercialisation of wave energy in Ireland by breaking the ground on permitting, foreshore licences, grid access and local infrastructure. "Our assessment suggested that suitable wave energy technologies would not be ready on time for a 2015 deployment," a spokeswoman for ESB said. Westwave's funding under the EU's NER300 scheme for innovative renewable energy and carbon capture and storage technologies was conditional on a December 2015 operation deadline. A leaked European Commission document shows Westwave is the only project to be withdrawn out of 23 awarded €1.2 billon in funding last December. It was the only successful wave energy project due for funding.
***
SHOE FIRM CONFIRMS CLOSURE OF SIX STORES - Fears are growing for jobs in shoe retailer Barratts with six stores due to close in Ireland over the next week. Signs advertised up to 60% off merchandise in 'closing down' sales at the retailer's stores on Dublin's Grafton Street and Henry Street. The British-owned firm that operates the business went into administration in November, and has been trying to find a buyer for the chain. The company has 15 shops in Ireland, including outlets in Dublin, Carlow, Cork, Newbridge, Athlone, Letterkenny and Kilkenny, and employs around 75 people. It also has 14 shops in Northern Ireland. UK administrators Duff & Phelps confirmed to the Irish Independent that six stores would be closing this week in Ireland and a further five in Northern Ireland -- but did not specify which ones.
***
IRELAND'S ECONOMIC HEALTH PRESENTS MIXED PICTURE - During the 1990s, Ireland became the poster child for what the EU can do for an up-and-coming economy: through EU development aid, integration with a common market and membership in the impending single currency. The "Celtic Tiger" became Europe's high-growth paragon. Two decades and one of the largest bank implosions later, that model lies in ruins. But European officials are now touting Ireland as a model of a different kind: after three years of gruelling austerity, on Sunday it became the first eurozone member to emerge from a bailout, says the Financial Times. "The successful conclusion of the Irish programme is a strong signal that our common response to the crisis is delivering results," Olli Rehn, the EU's economic chief, said after eurozone finance ministers signed off on Ireland's final aid payment this month. But privately, some senior members of the so-called "troika" of international lenders - the European Central Bank, European Commission and International Monetary Fund - worry whether EU politicians are again touting Ireland as a success story prematurely. By the one measure most important to exiting a eurozone rescue - whether the financial markets are ready to take over from bailout lenders in financing government operations - there is no doubt Ireland is a success. Borrowing costs on its 10-year bonds, which dropped below 3.5% on Friday, remain near euro-era lows. Just two years ago, they hit 14.6%. But on other gauges of economic health, the picture is far more mixed. Its sovereign debt level, which is expected to reach 124% of economic output this year, is on a par with Portugal and rising. Its annual deficit, at a projected 7.4%, is higher than any country in the EU other than bailout troublemakers Greece and Cyprus. Growth is flat; unemployment in double digits.
***
UK RETAILERS SET TO SLASH PRICES AS HIGH STREET GETS FESTIVE JITTERS - City analysts have raised fears that UK high street trading has been weaker than expected in December, raising the spectre of discounts in the final week before Christmas amid speculation that consumers are not feeling the benefit of economic recovery. New figures from the British Retail Consortium show footfall on high streets last month was 2.9% lower than a year ago and was "negative across the board" in every region of the UK that was surveyed, says today's London Independent. Diane Wehrle, Retail Insights Director at research firm Springboard, said it was "disappointing and suggests that Christmas trading could be challenging if December 2012 is anything to go by". Howard Archer, chief UK & European economist at research firm IHS Global insight, warned: "A growing number of retailers may feel under very real pressure to engage in significant discounting and promotions given that there is now less than 10 shopping days to Christmas."