Japan business mood hits six year high as 'Abenomics' takes hold
Monday 16 December 2013 08.43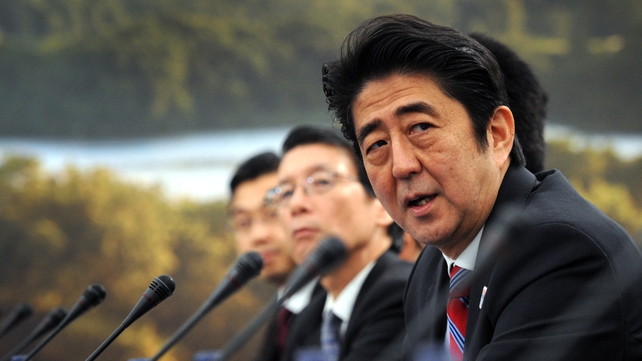 Japanese business confidence improved over the three months to December to its highest level in six years, a central bank survey showed.
The figures suggest that Prime Minister Shinzo Abe's "Abenomics" stimulus policies are gaining broader traction across the economy.
The Bank of Japan's quarterly "tankan" survey showed sentiment brightened not just for big firms but also for smaller companies, which had been slower to reap the benefits of a recovering economy.
Small manufacturers' sentiment hit a six-year high and the small non-manufacturers' index turned positive, which means optimists outnumbered pessimists, for the first time since 1992.
The survey reinforces the Bank of Japan's view that the economy is recovering moderately under and likely allowing it to hold off on expanding stimulus in coming months, analysts said.
The headline index for big manufacturers' sentiment improved four points from the previous quarter to +16, the tankan showed today, slightly above a median market forecast of +15.
It was the fourth quarter of improvement in a row and the highest level since December 2007, as companies benefited from robust domestic demand and a weak yen that gives their goods a competitive advantage overseas.
Service-sector mood also improved as consumers rushed to beat a sales tax hike next April. The big non-manufacturers' index was up 6 points to +20, better than a median forecast of +16 and the highest level since December 2007.
Japan's economy outpaced its G7 counterparts in the first half of this year as Abe's stimulus policies boosted business and household sentiment. Growth slowed in the third quarter on soft exports, but analysts expect it to accelerate again in the run-up to the sales tax hike.
Public works spending is also likely to offset the continued weakness in exports, thanks to a fiscal stimulus package aimed at softening the blow of higher sales tax.
The Bank of Japan has said the economy can handle the pain from the sales tax hike and still meet the bank's goal of achieving 2% inflation in roughly two years, due in part to the effect of its aggressive monetary stimulus launched in April.
The central bank is thus widely expected to keep monetary settings unchanged at its next rate review on December 19-20.