Today in the press
Friday 13 December 2013 14.52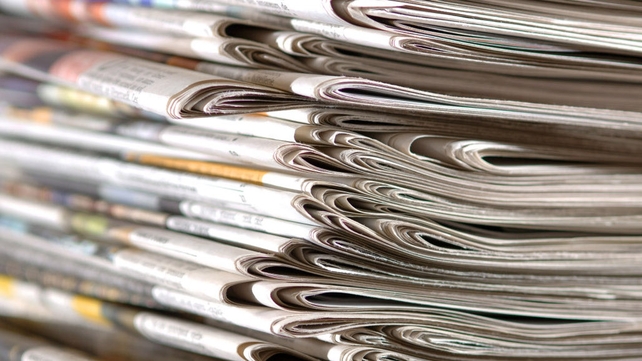 NOONAN SIGNALS POSSIBLE INCOME TAX CUT IN BUDGET - Income tax may be cut in the next budget for "certain groups", Minister for Finance Michael Noonan has said. As the bailout draws to a close this weekend, the Minister has also criticised unnamed troika "technocrats" for their lack of political nous during the rescue. Interviewed today by The Irish Times, he also said the uncompromising approach of former European Central Bank chief Jean-Claude Trichet made his job as Minister more difficult. Mr Trichet's successor, Mario Draghi, was not as "ideological", he said. The end of the bailout will marked in Dublin today a by a succession of Ministerial presentations for international media. Taoiseach Enda Kenny briefed EU diplomats yesterday on the exit strategy. Citing positive tax returns in November and the general improvement in the economy, Mr Noonan said the possibility of a tax cut in 2015 or 2016 may be emerging. Any such move would be cast as an effort to boost job creation. "The creation of extra jobs is the absolute priority of the government and if - when we have the resources - reducing income tax for certain groups in the economy creates extra jobs or sustains jobs, then we will do it," he said. Asked if that could be done by 2015, he said the Government was prepared to vary tax policy even when it had no resources. "So it's a possibility in 2015 and in 2016 and it's something we certainly would like to do. It depends on the availability of resources."
***
RYANAI NAMES ONE OF TWO REPLACEMENTS FOR OUTGOING COO CAWLEY - Ryanair has named one of the two people who will replace outgoing chief operating officer Michael Cawley, the Irish Independent has learnt. David O'Brien, currently head of flight and ground operations, has secured one of the roles. Staff were informed of the appointment yesterday. Mr Cawley, who's also a deputy chief executive at the airline, earlier this year announced his intention to resign from his role. He will officially resign at the end of March but will remain as a non-executive director of the firm. Following the airline's AGM in September, Ryanair chief executive Michael O'Leary indicated that the carrier was likely to split Mr Cawley's role and make two appointments to cover his duties. Mr Cawley undertakes negotiations with airports across Europe on behalf of Ryanair. Mr O'Brien will now take over that mantle from Mr Cawley, handling route development, traffic management and other activities, including links with airports. It's understood that the second appointment, which will be for a director of sales and marketing, will be made early in the new year.
***
UK CHAIN BUYS SECOND IRISH PUB - English pub chain Wetherspoon has acquired its second premises in Ireland, the former Newport Cafe in Paul Street Plaza in Cork City. The Watford-based company intends to create 40 to 45 jobs in Cork by opening its second pub in Ireland by Apr 2014, says the Irish Examiner. The company, which is making its second attempt to enter the Irish market after pulling out during the boom years citing the cost of doing business here, recently bought a premises in Blackrock, Dublin. It intends to open as many as 30 premises throughout the Republic of Ireland, with three or four to be opened in the next year. Wetherspoon founder and chairman Tim Martin said they are looking at other sites across the country. "I am delighted that we have secured our first pub in Cork and our second in the Republic of Ireland. We are looking at other sites throughout the Republic of Ireland and hopefully they will come to fruition in the near future." The company is planning on investing €1.5m on developing the premises in Cork and is not ruling out buying other venues in the city.
***
EUROPEAN WATCHDOG'S WARNING THROWS COLD WATER ON BITCOIN FEVER - European financial watchdogs have sounded the alarm over the risks consumers run by using virtual currencies such as Bitcoin, which has fluctuated between $340 and $1,240 in the past week. The European Banking Authority will on Friday issue a statement warning of the risk of "violent fluctuations in electronic currencies" value, the danger of "digital wallets" being hacked, and of the lack of legal protections for users. The Financial Times says that the move comes as authorities worldwide try to get to grips with the rapid expansion and soaring value of unregulated cyber currencies. The People's Bank of China this month ruled that Chinese banks should not process or insure Bitcoin transactions , in a step towards regulatory oversight of a currency that has exploded in popularity - and in value - in recent months. Other central banks have been more positive, with Ben Bernanke, the US Federal Reserve chairman, last month arguing they can be useful if money laundering can be prevented. While investors have enthusiastically adopted virtual currencies, authorities are worried the phenomenon is also fostering increased criminality focused on hacking online platforms and accounts, bribery, money laundering, or the purchase of illicit drugs or weapons.