Morning business news - December 13
Friday 13 December 2013 10.40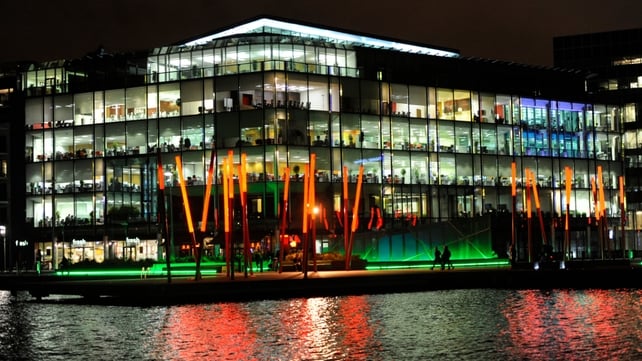 Commercial property deals are due to pass the €2 billion mark by the end of the year - that would put it at nearly four times the value of similar deals struck last year and well about the level of activity in 2011.
This follows two big Dublin deals in recent weeks - one relating to loans on a property near St Stephen's Green and another relating to the sale of offices on Grand Canal Square.
According to Mark Reynolds, director at property agency Savills, the sharp rise in activity is largely being driven by interest from foreign buyers.
"There's a wall of international money that's looking to enter the Irish market," he said. "Those funds are seeing the opportunity to purchase some of the State's best and largest assets,
"There's also a lack of vacant space at the moment and a strong occupier market coming through, so what these [investors] are seeing are strong rental projections going forward."
The bulk of activity is coming from overseas, however Reynolds said some Irish companies operating in the market, albeit at a lower level than some foreign companies. In some of the larger deals he said you are seeing "blended buyers", where international money links up with local investors to acquire a property.
Much of the activity has also been focused on so-called Grade A stock - which are more modern, large office buildings - however he said the lack of stock and rising rents has seen many move into older, lower quality properties too.
"Investors are seeing the opportunity to refurbish a property and offer it back into the market and there's quite a number of buildings being refurbished at the moment", he said.
***
MORNING BRIEFS - The chief executive of insurer RSA has resigned over issues related to the company's Irish subsidiary. This follows the resignation of Philip Smith, the chief executive of RSA Ireland, last month. RSA is also injecting £135m in fresh capital into its Irish unit to ensure it meets regulatory standards for solvency - this is in addition to the £70m put into RSA Ireland in November after the financial issues first came to light.
RSA said it had completed a review of its Irish business and its reserves with a further review, which is being undertaken by PwC, due to be completed in January. In a statement to the stock exchange this morning RSA said the impact of the further cash injection into its Irish operation would reduce its 2013 profits. It is the third profit warning the insurer has had to issue in the past two months.
*** Glanbia has announced plans to create 90 new jobs in Monaghan and Dublin. The dairy company is to build a new UHT facility in Monaghan, which will create long-life dairy products for export to Asia, Europe and the Middle East. It says the announcement comes on the back of 'increased collaboration' between Irish and Chinese authorities, including Taoiseach Enda Kenny's recent visit to the country. The Monaghan facility is due to be operational early next year and will see up to 40 people employed there. Glanbia's performance nutrition division is to establish its EMEA head office in Dublin, which will lead to the creation of 50 jobs.
*** The details of the Bord Gáis Energy sale have begun to emerge following the Government's announcement of a €1.1 billion deal yesterday evening. The Financial Times says the consortium of buyers will each take a different part of the business, with Centrica, the company that owns British Gas in the UK, taking its retail arm, as well as its gas-fired power station in Whitegate, Co Cork. Brookfield will take control of the company's wind farm business, while iCON Infrastructure would acquire Bord Gáis Energy's distribution business in Northern Ireland.
*** The liquidators behind IBRC have accepted bids for loans worth €2.5 billion as it winds down the lender formerly known as Anglo Irish Bank. Bids have been accepted on the majority of loans in the bank's Project Evergreen portfolio, which relate to a number of high profile businesses in the country. It is reported that loans owed by retailer Arnotts are to be sold to Fitzwilliam Finance Partners Investment - which has the backing of Brown Thomas and Selfridges' owner Galen Weston - while a consortium led by Denis O'Brien is expected to acquire loans owed by petrol station chain Topaz.
Doughty Hanson, which owns TV3, is set to buy loans owed by the broadcaster, while Dallas-based private equity firm Lone Star has been selected to buy a collection of smaller loans relating to companies like Fields Jewellers and Hickeys Pharmacy.