Today in the press
Thursday 12 December 2013 08.35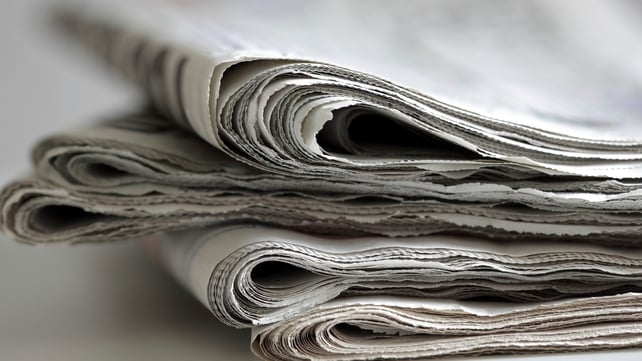 DANSKE TO CLOSE ACCOUNTS IN TWO MONTHS - Customers of Danske Bank have been told they have just two months to close their savings and current accounts, reports The Irish Independent.
The bank is shutting its retail operation here, but will give those with credit card accounts a month longer to clear their balances and find a new card provider, the newspaper has learnt.
Danske Bank said in October it was winding up its business and personal banking operations with the loss of 150 jobs.
It became the second bank to announce plans to close last month after ACC Bank said it was to hand back its banking licence next year.
Danske customers with savings accounts will be told to close their accounts two months from the date of the letter from the bank.
Customers have been informed in the letter they can withdraw any balance by electronic transfer. Customers will have to have another account to accept money coming out of the account they are shutting.
*****
GROUPON IRELAND RECORDS €134M LOSS - The Irish unit of international online firm Groupon recorded pre-tax losses totalling €134m in its first year of operation here, says The Irish Examiner.
Last June, the US-based Groupon announced the creation of a further 20 jobs at its Irish base to the dozen already in place. The firm provides a platform for people to search and discover businesses providing competitive prices.
New accounts filed by Groupon International Ltd to the Companies Office show that start-up costs were a factor behind the €134m loss.
The directors state that they view the results as satisfactory.
The figures show amortisation of the firm's intangible assets totalling €102m was the main cost incurred last year. Revenues in the period between Jul 2011 and Dec 2012 totalled €12.8m.
*****
LONE STAR BUYS DUBLIN OFFICES - Lone Star, the Dallas-based private equity firm led by John Grayken, has bought loans associated with 75 St Stephen's Green for about €75 million, reports The Irish Times.
Bank of Scotland (Ireland), a subsidiary of Lloyds Banking Group, sold the loan quietly last week after receiving about five serious bids for it.
Pimco, the world's largest bond investor with €1.5 trillion of assets under management, and Madison International Realty, which manages more than $1 billion from global institutional investors, are thought to have been among the under-bidders.
Lone Star bought the loan associated with 75 St Stephen's Green for between 80 and 90% of its face value, reflecting the strong demand for blue-chip office blocks in Dublin.
Tenants of the Garrett Kelleher-developed building include Hedgeserv, Maples and Calder, Cantor and education company EMPGI. Despite the high-quality of the overall building, tenants have been troubled by air conditioning issues.
*****
HILTON IPO SET AT HIGHER END OF RANGE - The Financial Times reports that Blackstone is set to return Hilton Worldwide to the US market after raising $2.35bn in an initial public offering of the world's biggest hotel chain by number of rooms.
Hilton sold 117.6m shares at $20 each on Wednesday, at the upper end of the $18-$21 price range it had set.
It sold 5m more shares than it initially said it would, demonstrating resurgent investor demand for hotel stocks, which have enjoyed a rebound in room rates, occupancy levels and business travel.
The IPO will rank as the second-largest US offering this year assuming its underwriters, including Deutsche Bank, Goldman Sachs, Bank of America Merrill Lynch and Morgan Stanley, exercise an additional allocation of shares.
It will be the largest offering by a hotel operator.
For Hilton and its owners, the deal caps a tumultuous journey since the heady days of 2007 when it was bought by Blackstone, the private equity group, for $26bn including debt.
The company intends to use about half the IPO proceeds to reduce its debt burden, which is falling but remains substantial compared to rivals.