Today in the press
Wednesday 11 December 2013 09.38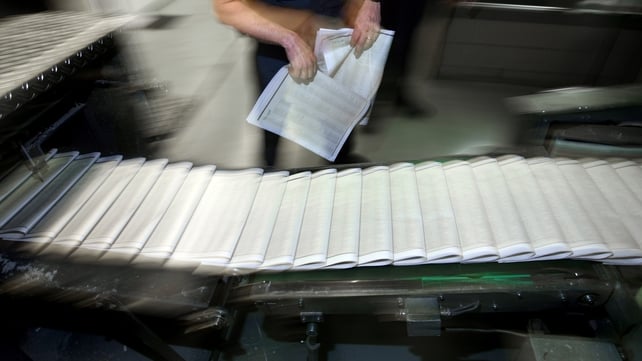 PTSB CONFIRMS HIGHER PROVISION FOR BAD LOANS AFTER REVIEW - Permanent TSB chief executive Jeremy Masding has confirmed to The Irish Times that the bank is taking extra provisions for bad loans on foot of the Central Bank of Ireland's recent balance-sheet assessments and asset-quality reviews. These assessments tested the strength of the balance sheets of AIB, Bank of Ireland and PTSB, and were a requirement of Ireland's exit from the EU-IMF bailout programme. "It was a rigorous process," Mr Masding said. "There will be extra provisions put into the balance sheet at the year-end, but the phrase I've used both with my team, my board and, indeed, with the Central Bank is I think it's prudence on prudence." Mr Masding declined to quantify the level of provision sought, saying the figure would be included in its 2013 full-year results, to be published in March. It has taken about €3 billion in provisions already since the financial crash, and got a net €2.7 billion in State aid. He said the figure was "absolutely within the bounds of reasonableness of what one would accept from your regulator". Bank of Ireland was the only institution to provide details last week of the provisions sought by the Central Bank. The figure was €1.3 billion, which the bank is disputing.
***
CORK-BASED SOFTWARE FIRM QUMAS BOUGHT FOR $50m - Cork-based quality management software firm Qumas has been snapped up by a US buyer for $50m (€36m). Qumas, which helps pharmaceutical and medical device clients to meet regulatory requirements, has been bought by US medical software company Accelrys, says the Irish Independent. The chief executive of Qumas is Kevin O'Leary, who is based between the US and Ireland and was short-listed as 'Entrepreneur of the Year' by Ernst and Young in 2009. Qumas, which was founded in 1994, reported sales of around €14m last year. It has two main operations, in Cork and Jersey City in the US. Investors in the company who will be reaping rewards from the deal include a spate of venture capital firms like Irish and UK investor Delta Partners and Boston-based private equity fund Fidelity Growth Partners.
***
UK 'NOT COMMITTED' TO IRISH ENERGY - UK demand for Irish renewable energy is not as strong as plans to build hundreds of windfarms across Ireland would suggest. The UK's Department of Energy said it is not committed to taking Irish renewable energy and there is speculation that its renewable targets will be a core element of negotiations of the UK's future in the EU, says the Irish Examiner. Three separate billion-euro windfarm schemes have been unveiled in Ireland, the most recent by Bord na Móna, with the aim of feeding the UK. Bord na Móna's plan is to supply 2GW of energy - enough power for 1 million homes - directly into the UK domestic grid. A spokesman for the Department of Energy said Britain was still considering this plan. "At this stage we are still looking at the practicalities of the project and no decisions have been made. "If the British and Irish governments agree to take the project forward there will still be a number of issues that need to be addressed, including planning consents." He said the UK does not have any urgent need to bring in Irish renewable power to meet the EU's stipulated requirement of renewable energy.
***
JPMORGAN FILES PATENT FOR BITCOING-STYLE PAYMENT SYSTEM - JPMorgan Chase has filed a US patent application for a computerised payment system that resembles some aspects of Bitcoin, the controversial virtual currency, reports the Financial Times. Like Bitcoin, JPMorgan's proposed system would allow people to make anonymous, electronic payments over the internet, without having to reveal their name or account numbers or pay a fee, according to the patent application. The application put a spotlight on the behind-the-scenes battle being waged between the biggest banks, credit card operators and companies such as Google, Apple and PayPal - are all keen to grab a slice of the rapidly expanding business of providing mobile and internet payments as more people shift to online buying. At the same time, traditional finance companies have had to contend with new types of virtual currencies, which some people view as viable alternative payment systems that could one day challenge the biggest banks and credit cards. JPMorgan said in its patent application - which dates back to 1999 but was recently updated - that the new payment system would compete with debit and credit cards as the predominant way of making online transactions.