UK announces sharp upward revision to growth forecasts
Thursday 05 December 2013 12.10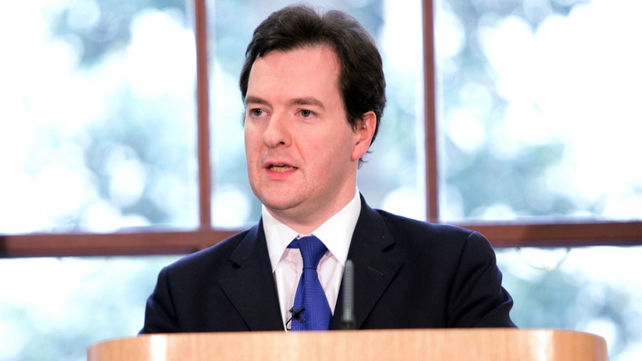 Britain announces sharp upward revision to growth forecasts
Britain's government today announced the biggest upgrade to official growth projections in over a decade, following the UK economy's surprisingly strong turnaround.

In a budget update, finance minister George Osborne said the UK economy was on track to grow by 1.4% this year - more than double the 0.6% pencilled in at the time of the March budget.

Growth in 2014, he said, was expected to be 2.4%, up from the previous estimate of 1.8%.

Having been a laggard for several years, Britain has overtaken its euro zone peers to become one of the fastest-growing advanced economies in the world.
However, the economy remains smaller than it was before the financial crisis, which is not the case for most of Britain's trading partners.
George Osborne told the Commons that "Britain's economic plan is working" , but as he outlined plans to extend the retirement age for millions, he warned that the "job is not yet done".
He warned of "more difficult decisions" and acknowledged that the effects of the economic crash on family budgets were still being felt.
He also revealed that the recent recession had been even deeper than feared - with GDP down by 7.2% rather than 6.3% - the equivalent of £3,000 per household and one of the sharpest falls globally.
The Chancellor promised a package of measures to tackle tax avoidance, evasion, fraud and error which he claimed would raise more than £9 billion over the next five years.
He also said the bank levy rate would rise to 0.156% from January 2014, raising £2.7 billion in 2014/15 and £2.9 billion each year from 2015/16.
The Chancellor today announced a sharp cut in borrowing projections today and said a key measure of the budget could be back in surplus by 2018/19, helped by a recovering economy.
Mr Osborne said that borrowing on the government's preferred measure - which excludes distortions from the transfer of Royal Mail pensions and the Bank of England's Asset Purchase Facility - would be £111 billion this fiscal year, below the £120 billion envisaged in March.

Borrowing will fall to £96 billion in 2014/15, £79 billion in 2015/16, £51 billion the year after and £23 billion the year after that.

Over the five-year forecast period, borrowing on this underlying measure will be £73 billion less than forecast at the time of his budget in March, Osborne said.
UK to tax foreign property investors from 2015
Britain will impose capital gains tax on foreign investors selling homes that are not their primary residence, George Osborne told the Commons as the government moved to curb soaring house prices in London.

"It's not right that those who live in this country pay capital gains tax when they sell a home that is not their primary residence - while those who don't live here do not," Osborne said.
"That is unfair. From April 2015, we will introduce capital gains tax on future gains made by non-residents who sell residential property here in the UK," he stated.

Property prices in London have jumped by about 10% in the last 12 months and increases in some parts of the city have been greater.

Much of the demand has come from foreigners looking to buy their second home or wanting to tie up their cash in London, which has been seen as a safe haven in recent years amid economic and political turmoil in Europe and the Middle East.

Britons pay capital gains tax - typically at 28% - on any profit from selling property that is not considered their primary residence.