Today in the press
Wednesday 04 December 2013 09.16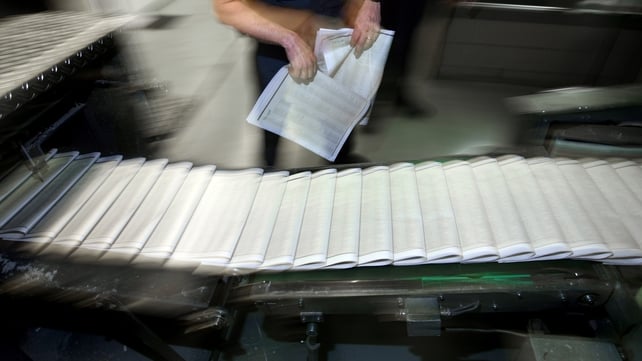 COMPENSATION FUND FORCED TO SET ASIDE €22m TO REPAY CHC AND IBRC INVESTORS - A compensation fund backed by the Central Bank has been forced to set aside €22.3m to repay hundreds of investors caught up in the collapse of Custom House Capital (CHC) and the liquidation of IBRC. This year, the compensation fund set aside €2.6m to cover claims related to IBRC - far less than the amount related to CHC because ordinary savings held by IBRC were protected by the government-backed deposit scheme and other schemes. Two years after the collapse of CHC, former clients have received €5.9m of an estimated €19.7m due in compensation from the Investor Compensation Company Limited (ICCL), according to accounts due to be published today says the Irish Independent. ICCL is the statutory body set up to compensate eligible investors when an investment firm fails. It is financed from levies on regulated financial firms and its chairman and deputy chairman are appointed by the Central Bank. Not all investors are automatically entitled to compensation. In its annual report the ICCL said it determined in April 2013 that no compensation was due to be paid to compensate people who lost money due to the closure of stockbrokers Bloxham last year.
***
INCOMING EIRGRID CHAIRMAN HINTS HE MAY RECONSIDER TAKING POST - The incoming chairman of national electricity grid operator, Eirgrid, hinted yesterday that he would reconsider his decision to accept the job after facing heavy criticism at an Oireachtas committee, writes the Irish Times. The Minister for Communications, Energy and Natural Resources Pat Rabbitte recently appointed retired civil servant and former chairman of An Bord Pleanála, John O'Connor, as chairman of Eirgrid. Members of the Oireachtas Joint Committee on Transport and Communications, yesterday criticised the appointment on the grounds that Eirgrid intends seeking permission from An Bord Pleanála for controversial construction projects in the north east, west and southeast, creating a possible conflict of interest for Mr O'Connor. Responding to members who asked if he would reconsider his position, Mr O'Connor told the meeting: "I will discuss it with the Minister and come to a conclusion after that". He has already accepted Mr Rabbitte's offer of the post. Mr O'Connor rejected several times that he would be conflicted in his new role or that his appointment tilts the planning process in Eirgrid's favour. "There will be no back door phone calls, there will not be anything underhand or anything like that," he said.
***
RYANAIR RESISTS ALITALIA INVITATION FOR INVESTMENT IN €300m RESTRUCTURING - Ryanair has not offered to take part in Italian airline Alitalia's poorly received €300m capital increase, the chief executive said yesterday says today's Irish Examiner. After a lukewarm response to its emergency cash call, Alitalia has been left with the prospect of literally running out of fuel before next summer unless it can get top shareholder Air France-KLM or some other investor to invest and help revamp its fleet. Speaking at a news conference in Rome, Ryanair's CEO Michael O'Leary said if his airline were asked to join Alitalia's cash call currently earmarked only for shareholders "we would evaluate" the possibility. But the chance of Alitalia letting Ryanair invest in its capital are slim after the carrier last week rebuffed an offer from Ryanair to feed passengers into its long-haul routes and help boost Alitalia's profitability. Alitalia then said it had its own restructuring plan in place and suggested the two firms were not natural partners. Cash-strapped Alitalia has so far raised less than two thirds of the capital wanted from the share sale and will rely on Italy's state-owned postal service and other investors to come up with the rest.
***
BANKS RUSH TO MEET TAX AVOIDANCE CODE DEADLINE - UK Chancellor George Osborne is preparing to ratchet up pressure on banks over tax avoidance. Lenders are trying to meet a Wednesday deadline to sign up to a code that will "name and shame" banks that flout the spirit of the law, writes the Financial Times. The banking industry has reacted angrily to the new measure but most lenders have agreed to comply, with only a minority saying they have been given insufficient time to clear the revised proposals with their boards. The UK banks have signed up. Some so far recalcitrant French and German banks, are expected to sign up soon. But others, including some smaller institutions, remain loath to commit to the terms of the code as they stand, according to bankers. "The safeguards around naming and shaming, potentially inappropriately, are concerning," said one bank tax expert. The Treasury is determined to press ahead with its decision to beef up the code that was originally launched in 2009 by Alistair Darling,when he was chancellor, to stop banks using tax planning schemes. The code remains voluntary but will be given more teeth by new legislation that requires HM Revenue & Customs to name non-compliant banks, along with a list of which lenders have signed up to the code and which have not.