Tesco's third quarter Irish sales slide by 8%
Wednesday 04 December 2013 08.16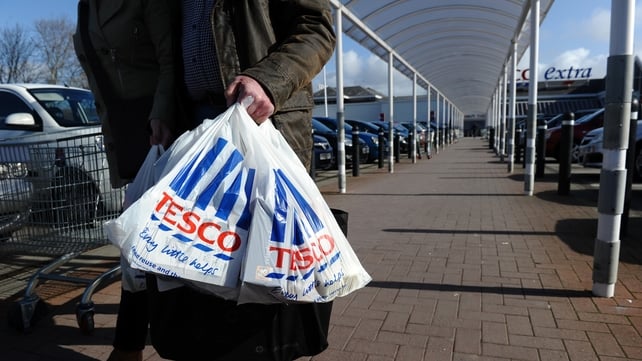 Tesco, the world's third-biggest retailer, today reported an underlying sales decline in its main British market in its third quarter, raising new questions over its recovery strategy.

The firm is 20 months into a turnaround plan for its main UK business that has seen over £1 billion invested in store revamps, more staff, new products and pricing initiatives.
Tesco said that third quarter sales in Ireland fell by 8%, saying its performance here continues to reflect extremely challenging conditions for consumers, compounded by a more intense competitive environment.

Today's trading statement shows that sales at British stores open over a year, excluding fuel and VAT sales tax, fell 1.5% in the 13 weeks to November 23.

That compares to analysts' forecasts of down 1-2% and flat like-for-like sales reported for the second quarter.

Tesco said total group sales increased 0.6% at actual exchange rates, excluding petrol.

Like-for-like sales fell 5.1% in Asia and were 4% lower in the Europe division. It especially noted tough trading conditions in Thailand, but reported improved performances in Poland and Turkey.
"Continuing pressures on UK household finances have made the grocery market more challenging for everyone since the summer and our third quarter performance reflects this," Tesco's chief executive Philip Clarke said.

"Overseas, the near-term trading environment also remains tough," he added.
Analysts' average forecast for group trading profit in 2013-14 is £3.39 billion, down from the £3.45 billion made in 2012-13.

Tesco is being squeezed by hard discounters Aldi and Lidl and upmarket grocers Waitrose and Marks &Spencer.

The increased competition has prompted some analysts to suggest Tesco needs to cut prices to reclaim lost market share, putting a doubt over the sustainability of its targeted UK operating margin of 5.2%.

The group did not give an operating margin for the third quarter.

"Despite the challenging conditions in many of our markets, we are performing in line with market expectations for the full year," Tesco said in today's statement.