US holiday weekend sales dip on discounts
Monday 02 December 2013 14.51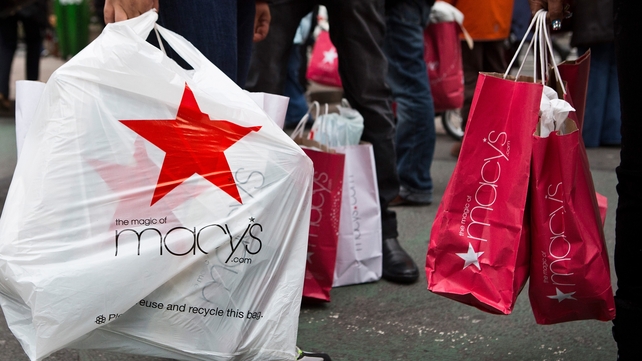 Heavy discounting took a toll on US retail sales during the Thanksgiving weekend as shoppers spent less than they did a year earlier, according to data released by an industry group.
That could be an indication of a more difficult season for many retailers. But one bright spot this weekend, according to the data, was e-commerce as online sales soared.
The National Retail Federation estimated the average shopper spent $407.02 over the weekend, or 3.9% less than during the same weekend last year, because of lower prices it said would persist through the rest of the season.
The NRF said 141 million people went shopping at least once during the holiday weekend, up from 139 million last year.
Total spending was expected to reach $57.4 billion for the four-day period - which includes Black Friday, the biggest shopping day of the year - down 2.8% from $59.1 billion over the same weekend in 2012.
The big deals will also dent profit margins, analysts said.
The Thanksgiving weekend, anchored around Black Friday, is an early gauge of consumer mood and intentions in a season that generates about 30% of sales and nearly 40% of profit for retailers.
But many have given modest forecasts for the quarter. Wal-Mart Stores said it expects no growth in its comparable sales, and Macy's did not raise its full-year sales forecast despite strong numbers last quarter.
The shorter holiday period this year - there are six fewer days between Thanksgiving and Christmas compared with 2012 - prompted retailers to begin offering sales today.
The NRF stuck to its forecast for retail sales to rise 3.9% for the whole season.
ComScore, an analytics firm whose data is closely watched by Wall Street, said US online sales rose 17.3% on Thanksgiving and Black Friday, outpacing sales growth high street stores.
Retailers are also being aggressive online as they look to benefit from Cyber Monday - the biggest sales day of the year for e-commerce.