Air France-KLM writes off Alitalia stake
Thursday 31 October 2013 13.02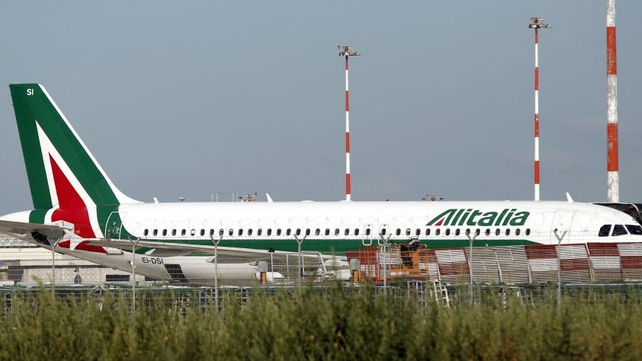 Air France-KLM wrote off the value of its stake in Italy's Alitalia, casting doubt over its willingness to invest further in the struggling carrier as a weak economy chips away at its own debt reduction plans.
The Franco-Dutch firm disclosed a €119m charge for its 25% stake in Alitalia.
The Italian carrier is seeking a capital increase of €300m to stay afloat amid tough competition from low-cost airline rivals and high-speed rail.
Air France-KLM backs Alitalia's financing move in principle but has not said whether it will take part despite mounting pressure from Italian shareholders.
It is widely seen as being nervous about its exposure to an airline that has not made money in over a decade.
"Following this decision (to raise more capital), Air France-KLM group has fully depreciated its Alitalia shares," the Paris-based airline said in financial notes released with its third-quarter results.
Alitalia declined to comment.
The chief executive of one of Alitalia's main Italian shareholders, the Milanese bank Intesa Sanpaolo has appealed for an industrial agreement to be struck over the future of Alitalia and said Air France-KLM must be its main partner.
But French newspaper La Tribune reported that the chances of Air France-KLM participating in Alitalia's capital increase were "practically zero" and said it was preparing a possible later investment move as its near-bankrupt affiliate could be in difficulty by February.
Further clouding its appetite for investments, Air France-KLM softened one of its targets for 2014 and pushed its debt reduction goal back by up to a year after warning of "major difficulties" in boosting medium-haul and cargo businesses.
It said earnings before interest, tax, depreciation and amortisation (EBITDA) would be about €2.5 billion in 2014, at the low end of a targeted range, while a €2 billion reduction in net debt would only be achieved in 2015.
Air France-KLM, which had previously set its sights on reaching the debt goal by the end of 2014, is in the middle of of a major restructuring plan which it said was otherwise on track.
Low growth and high oil prices mean medium-haul and cargo activities will see a "significant reduction" in losses in 2014, without enabling them to break even as first hoped, it said.
German rival Lufthansa said the first signs of market recovery in cargo, a traditional bellwether for the economy, were visible for the fourth quarter, but disappointed with slower growth in its passenger business.
Analysts said Air France-KLM's underlying performance had been slightly better than expected, but signalled concerns by investors over Alitalia despite what many see as the strategic draw of deeper access to Europe's fourth largest travel market.
Air France-KLM boss Alexandre de Juniac said the airline remained ready to help Alitalia under "very strict conditions", while Alitalia said its flights continued without disruption
Air France-KLM, which recently announced 2,880 new job cuts, said unit costs fell 1.5% on a constant fuel and currency basis in the third quarter and confirmed it aimed to improve its second-half operating result at the same pace as the first half.
Operating earnings for the third quarter rose 29% to €634m from a proforma level of €491m, despite revenue which grew just 0.4% to €7.212 billion.
The carrier said a sharp rise in the euro against the dollar had weighed on revenue but lowered its quarterly fuel bill by €109m to €1.86 billion.