Macedonia has closed its borders completely to illegal migrants after Slovenia, Croatia and Serbia announced tight new restrictions on migrant entry, a police official said.
Thousands of migrants have built up on the Greek side of the Macedonian border.
Macedonia had been allowing small numbers of Syrians and Iraqis through but stopped this after its neighbours tightened up their policies.
According to the Macedonian Interior Ministry, no migrants or refugees entered from Greece yesterday.
"Macedonia will act according to the decisions taken by other countries on the Balkan route," an Interior Ministry spokesman said, referring to the main routes taken by more than a million migrants and refugees to reach the European Union over the last year.
Slovenia, Croatia and Serbia said yesterday they would place new restrictions on the entry of migrants.
Around 1,000 migrants and refugees remain stranded in a refugee camp on the Macedonian side of the Serbian border while more than 400 are stranded in "No Man's Land" between Serbia and Macedonia.
They refuse to go back to Macedonia and are not being allowed to cross in to Serbia.
Hungary to increase border controls to stem flow of refugees
Hungary will send more police and army troops to patrol its southern borders its Interior Minister said, as several countries in the Balkans take extra steps to keep out migrants.
Sandor Pinter said Slovenia, Croatia and Serbia have all taken steps to limit the number of migrants allowed to cross their borders.
Mr Pinter said Hungary was also making preparations along its border with Romania, in order to be able to erect a fence there if needed within ten days.
Hungary has already built a fence on its borders with Serbia and Croatia.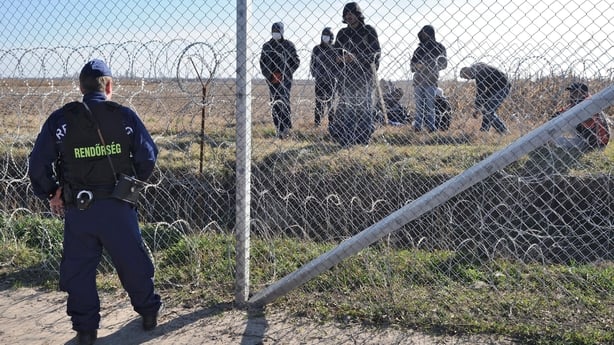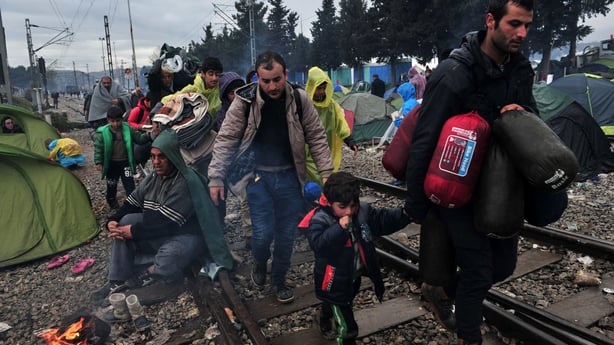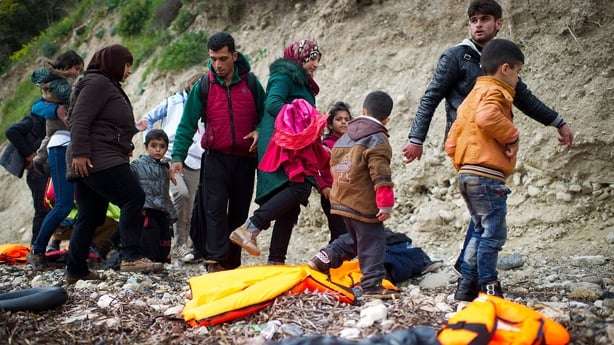 Turkey intercepts Syrian refugees along Aegean coast
Turkey's coast guard has intercepted dozens of mostly Syrian refugees in coves along the Aegean coast as they continued to attempt perilous sea crossings to Greece.
A group of 42 people, more than a dozen of them children, sat inside a coast guard compound, some lying under blankets, in the seaside resort of Didim after being detained.
Scores more waited among boulders by the beach, watched by armed police, as a bus came to take them away.
Under a draft deal agreed on Monday, Turkey agreed to take back all irregular migrants in exchange for more funding, an earlier introduction of visa-free travel to Europe for Turks, and a speeding up of Ankara's long-stalled EU membership talks.
The aim, Prime Minister Ahmet Davutoglu and EU leaders have said, is to discourage illegal migrants and break the business model of human smugglers who have fuelled Europe's largest migration crisis since World War II.
The message, they say, is simple: try to cross illegally and get sent straight back.
But the United Nations and human rights groups have warned that blanket returns without considering individual asylum cases could be illegal.
And it remains far from clear that the message will get through to desperate families who see smuggling as their surest route into Europe as its borders close.
Even as groups of migrants were detained on the beaches, more arrived by taxi in Didim, a popular holiday resort with yachts bobbing in its marina.
More than a million people fleeing war and poverty in the Middle East and beyond have flooded into the EU since early 2015, most crossing the Aegean from Turkey to Greece in small boats, then heading north through the Balkans to Germany.
Rights group Amnesty International called the proposed mass return of migrants under the EU deal with Turkey a "death blow to the right to seek asylum".
Relief charity Doctors without Borders said it was cynical and inhumane.
Under the tentative deal with Ankara, the EU would admit one refugee directly from Turkey for each Syrian it took back from the Greek Aegean islands.
Those who attempted the sea route illegally would be returned and go to the back of the queue.