Voting has begun in the 'Super Tuesday' primaries and caucuses, with several states voting to select party candidates for the US presidential election.
Twelve states are casting votes for candidates from both the Republican and Democratic party nominations.
Opinion polls show Republican hopeful Donald Trump is in position to take firm control of the party's race, an outcome likely to intensify concerns among party leaders that the businessman has hijacked the party.
In the Democratic race, former secretary of state Hillary Clinton can go a long way toward silencing concerns about her candidacy with big victories of her own over democratic socialist Bernie Sanders.
Mr Trump was leading in nearly all the states that will hold primary contests or caucuses, most of them in the US south.
The lone exception appeared to be Texas, where Senator Ted Cruz, who represents that state, enjoyed a narrow lead and was in desperate need of a victory.
Mr Trump is hoping to seal the Republican nomination against opposition from Mr Cruz, Senator Marco Rubio of Florida, Ohio Governor John Kasich and retired neurosurgeon Ben Carson.
On the eve of voting, Mr Cruz and Mr Rubio called on Mr Trump to ask The New York Times to release an audiotape of a 5 January interview he gave to the newspaper's editorial board, which they believe will show that Mr Trump does not back his own immigration policy.
It is reported that the Trump campaign had no immediate response.
Mr Rubio saw his support increase among Republican voters after a strong debate performance last week, rising to 20% from 14%, a Reuters-Ipsos poll found. Mr Trump still dominated the field with 42% support.
He cites his high poll numbers as proof he is not dividing the Republican Party but expanding its ranks.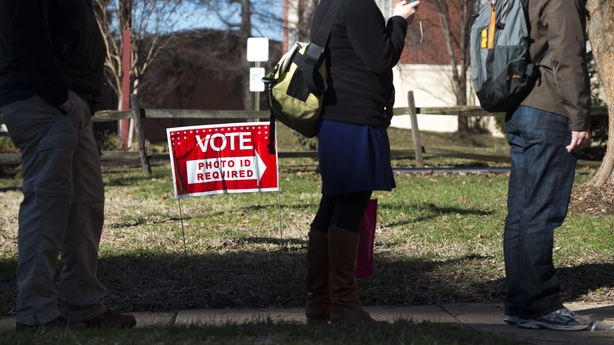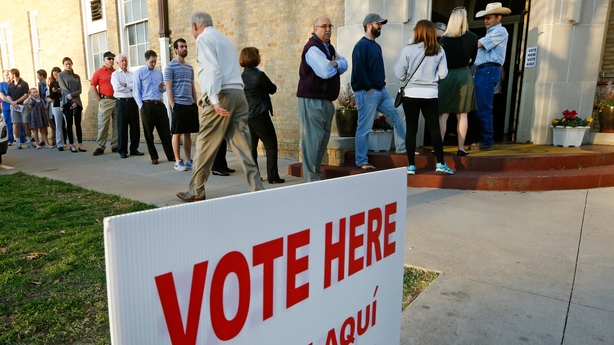 On the Democratic side, polls show Mrs Clinton, who has won three of the first four Democratic contests, with a big lead in six southern states that have large blocs of black voters, who have been slow to warm to Mr Sanders, a senator from Vermont.
Mr Sanders has been aiming for wins in five other states - Vermont, neighbouring Massachusetts, Oklahoma, Minnesota and Colorado.
One factor helping Mrs Clinton is a focus on getting her voters to make their choices early. More than half the delegates needed to secure the Democratic nomination will be chosen this month with contests in 28 states, and more than a third of those have early voting.
Democrats abroad
The unofficial results from the Democrats Abroad primary election held in Dublin today shows a massive victory for Mr Sanders.
Results from observers, similar to tallies, show Bernie Sanders received 98 votes, while Ms Clinton received 37.
Observers also reported a large number of young people voting during the primary.
Another Irish Democrats Abroad primary will be held in Galway on Saturday.
Other US citizens living in Ireland can also vote online or by post until the 8 March.
Democrats Abroad is a constituency representing the estimated 8.7 million Americans who live outside of America.
It is recognised as a 'state' by the Democratic National Committee and has eight voting members on the committee and eight votes at the selection convention to pick a Presidential nominee in July.