Thousands take part in march supporting Gazan people
Saturday 09 August 2014 21.59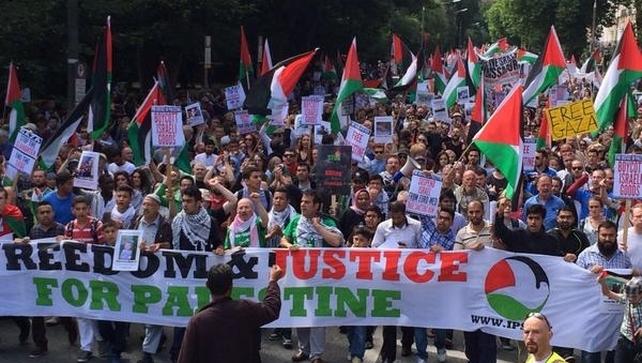 Thousands of people marched through Dublin to take part in a demonstration outside the Israeli embassy in support of people living in Gaza.
Organisers of the march say 10,000 people took part while gardaí estimate that up to 7,000 people are involved.
Chairperson of The Irish Palestine Solidarity Campaign, which organised the protest, Freda Hughes, says Israel's military campaign in Gaza was a breach of international law and amounted to collective punishment of the people living there.
She added the international community was allowing Israel act as it wished against Gaza and this must change.
Sinn Féin's spokesperson on Foreign Affairs Seán Crowe addressed protest, saying "people from all across the island came out in their thousands today to show solidarity with the besieged people of Gaza.
"The large numbers in attendance sent a clear message that Irish people will not stand idly by while Israel commits war crimes and exasperates the humanitarian crisis in Gaza deepens."