Toronto mayor Rob Ford registers for election
Thursday 02 January 2014 16.39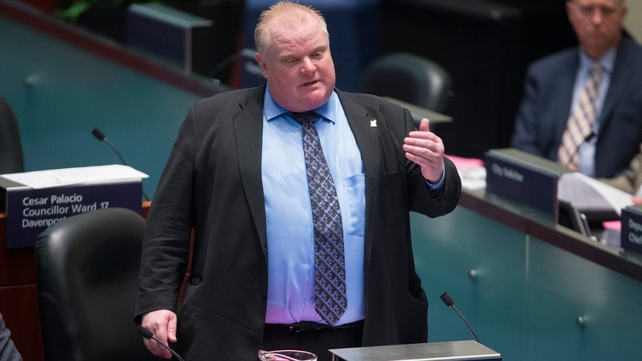 Toronto Mayor Rob Ford, who last year admitted to having used crack cocaine, has registered for the city's October mayoral election.
He said he was the best mayor Toronto has ever had and would be re-elected.
Mr Ford, who admitted that he smoked crack while in a"drunken stupor," purchased illegal drugs while in office and drove after drinking, said his slogan will be "Ford more years."
He is the first candidate to register for the 27 October election and is expected to be opposed on both sides of the political spectrum.
"My track record speaks for itself," Mr Ford told reporters as he registered for re-election at city hall, according to local media reports.
"If you want to get personal, that's fine. I'm sticking to my record, and talk is cheap. You're going to see action like you've never seen before."
Mr Ford, who came to power in 2010 on a platform of cost-cutting and low taxes, has billed himself as a champion of taxpayers and ordinary people.
But he has been criticised for public drunkenness and personal attacks on political opponents, the city's police chief and journalists.
The revelations about Mr Ford began in May when two media outlets said they had seen video of him smoking from what appeared to be a crack pipe.
He initially said he did not smoke crack cocaine, before admitting in November that he had done so.
He was later stripped of most of his mayoral duties after the Toronto city council voted to transfer most of his powers and budget to the deputy mayor.
Supporters and opponents alike have urged him to enter rehab, but Mr Ford has insisted he is not an addict.
A poll in November showed 42% of Toronto voters approved of the job he has been doing as mayor and 33% said they would vote for him next October.
Mr Ford won the last election with 47% of the vote.
His support is strongest in the suburbs, where many backed his pledge to curb spending and limit taxes.