Israel releases 26 Palestinian prisoners
Tuesday 31 December 2013 08.53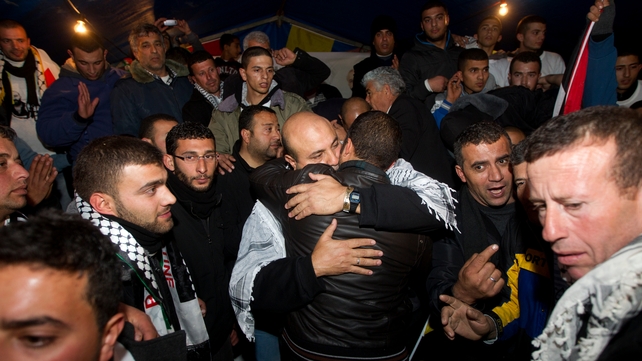 Israel has released 26 long-serving Palestinian prisoners as part of a US-brokered initiative aimed at reinvigorating Middle East peace negotiations.
Israel agreed to release a total of 104 Palestinian prisoners as part of a package that in July revived peace talks after a three-year break.
Today's release was the third of four groups to go free.
US Secretary of State John Kerry is due to return on Thursday to seek a framework agreement in talks that have shown few signs of progress.
Most of the 26 inmates going free were convicted of killing Israelis and almost all were jailed before the first Israeli-Palestinian interim peace deals were signed 20 years ago.
Palestinians have jubilantly welcomed their return.
However, many Israeli families have voiced anger and mounted unsuccessful court challenges against their release.
In tandem with the prisoner releases in the West Bank and Gaza, Israel has announced new construction in settlements in occupied territory Palestinians seek for a state.
Last week, an Israeli official said Prime Minister Benjamin Netanyahu's government, which includes pro-settlement parties, would announce plans after the latest release to build 1,400 more homes for settlers in the West Bank.
Palestinians see the settlements, which most countries regard as illegal, as an obstacle to achieving a viable state in the West Bank and Gaza, with East Jerusalem as its capital.
Israel captured those territories in the 1967 Middle East war and pulled out of Gaza, now ruled by Hamas Islamists opposed to the US peace efforts, in 2005.
Palestinian officials have cautioned the settlement push could kill chances for a peace deal.
Israel says the housing projects are in areas it intends to keep in any future agreement.