Japan PM visits controversial WWII shrine
Thursday 26 December 2013 17.01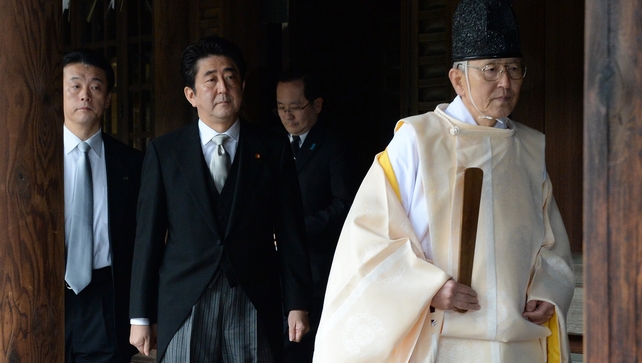 Japanese Prime Minister Shinzo Abe has visited a shrine which is seen by critics as a symbol of Tokyo's wartime aggression.
The move has infuriated China and South Korea and has prompted a message of concern from the United States about deteriorating ties between the North Asian neighbours.
China and South Korea have repeatedly expressed anger in the past over Japanese politicians' visits to Yasukuni Shrine, where Japanese leaders convicted as war criminals by an Allied tribunal after World War II are honoured along with those who died in battle.
The two countries have been especially touchy about visits to the shrine by serving Japanese prime ministers, and Mr Abe is the first leader in office to pay homage at Yasukuni in the past seven years.
Mr Abe, a conservative who took office for a second term exactly one year ago, said he did not intend to hurt feelings in neighbouring nations.
"There is criticism based on the misconception that this is an act to worship war criminals, but I visited Yasukuni Shrine to report to the souls of the war dead on the progress made this year and to convey my resolve that people never again suffer the horrors of war," he told reporters after the visit.
Television carried live video of his motorcade making its way to the shrine, built in 1896 by Emperor Meiji to enshrine war dead.
Yasukuni played a key role in the wartime state Shinto religion which mobilised the population to fight in the name of a divine emperor.
Stressing that it was natural for a nation's leader to payhis respects to those who died for their country, Mr Abe said:
"I have no intention to hurt the feelings of the Chinese or Korean people."
For many in China and South Korea, Yasukuni remains a symbol of Japan's military atrocities.
China's foreign ministry swiftly called the visit a "brazen" act.
"The Chinese government expresses strong indignation at the Japanese leader's trampling on the feelings of the people of China and the other war victim nations and the open challenge to historical justice...and expresses strong protest and serious condemnation to Japan," it said.
South Korea termed the visit a deplorable and anachronistic act that damaged ties between the two countries and summoned atop Japanese diplomat in Seoul to protest.
"We cannot withold regret and anger over the visit," said Minister of Culture, Sports and Tourism Yoo Jin-ryong.
Washington also expressed disappointment.
"Japan's leadership has taken an action that will exacerbate tensions with Japan's neighbours," a US Embassy statement in Tokyo said.
"The United States hopes that both Japan and its neighbours will find constructive ways to deal with sensitive issues from the past, to improve their relations, and to promote cooperation in advancing our shared goals of regional peace and stability."