Anti-government protests in Ukraine
Sunday 22 December 2013 19.38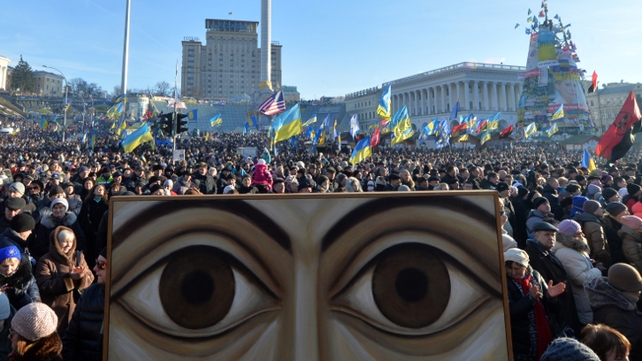 Tens of thousands of Ukrainians joined a protest rally in Kiev this afternoon calling for the resignation of the government.
Protests began in November when people were angered by the decision of President Viktor Yanukovich to move away from a trade and association agreement with the European Union in favour of closer ties with Russia.
In recent weeks, the protests in Ukraine, have become less about demands for ties with the European, to more general calls for President Viktor Yanukovich to resign.
There was further anger at the government when police used force against protesters on a number of occasions.

Anti-government protesters have been camping in Independence Square one month after demonstrations against Ukrainian President Viktor Yanukovich first began.

Ukraine's embattled President Yanukovich gave a live television address last Thursday where he explained the reasons for signing a deal With Russian President Vladimir Putin who agreed to a 15 billion dollar aid package and cheaper gas supplies from Russia.
Despite being buffeted by the protests, Mr Yanukovich still appears firmly in command.
His allies control parliament and the security forces remain loyal.

Ukraine's super-wealthy 'oligarchs', while sitting on the fence, have not made any signs of withdrawing support.

But unless Mr Yanukovich can demonstrate that the Russian aid is boosting the economy and living standards, he may find it hard to secure re-election in a free and fair vote in 2015.

A draft budget issued last Thursday showed Ukraine expects economic growth of 3% in 2014, after five quarters of shrinkage.