US Senate eases restrictions on Guantanamo transfers
Friday 20 December 2013 10.27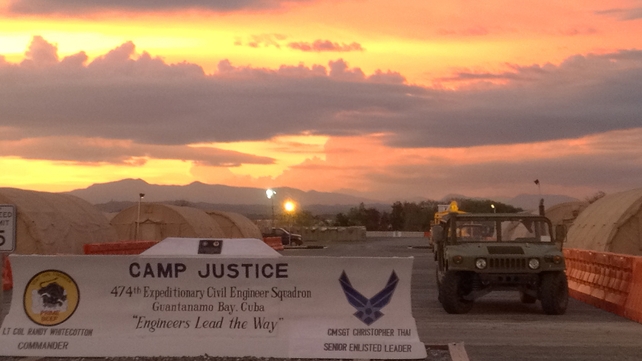 The US Senate has eased the way for President Barack Obama to speed up the transfer of prisoners from Guantanamo Bay to their home countries.
The move is seen as a crucial step towards the long-delayed closure of the military prison.
Under a bipartisan deal as part of a broader defence spending bill, some restrictions on Mr Obama's ability to send more of the 158 remaining inmates home after years of detention without trial at the US Naval Base in Cuba were loosened.
Mr Obama will still face major obstacles to shutting Guantanamo.
However, he will be in a better position than before to take steps to reduce the detainee population at the facility, which has long been the object of international condemnation.
"While the bill does not address all of the administration's concerns, its provisions ... will provide the administration additional flexibility to transfer detainees abroad consistent with our national security interests," White House spokesman Jay Carney said.
Mr Obama repeatedly pledged to close Guantanamo when he was campaigning for a first term and after he took office in 2009.
But he blamed congressional resistance for frustrating his efforts to empty the camp, which was opened by his predecessor, George W Bush, to hold terrorism suspects rounded up overseas after the 11 September 2001 attacks.
Renewing his commitment to shut the prison, Mr Obama insisted earlier this year that keeping Guantanamo open hurt the US' moral standing and that it was "not sustainable ... to keep over 100 individuals in a no-man's land in perpetuity".
The administration then named two special envoys to oversee the effort, stepped up negotiations with other countries, including Saudi Arabia, Algeria and Yemen, and worked with Congress to craft a compromise deal.
Though politicians on both sides of the aisle refused to budge on a ban on bringing Guantanamo prisoners to the US mainland, they gave ground on rules for sending prisoners home.
Human Rights First hailed the vote as "a new foundation for bringing the number of Guantanamo detainees down to zero".
"We do not expect the administration to close Guantanamo tomorrow," the group said.
"It will be a methodical process of whittling down the detainee population as the administration negotiates appropriate security assurances from host nations."
Among the earlier constraints was that the US defence secretary had to "certify" that the country where an inmate was being sent was not "facing a threat that is likely to substantially affect its ability to exercise control over the individual."
This all but ruled out politically chaotic Yemen, the home country of the largest group of Guantanamo detainees, and raised questions about other restive Middle Eastern states.
Transfers were further banned to countries that the US had designated "state sponsors of terrorism," a category that made it difficult to move Syrian inmates.
Prisoners also could not be sent back to any country where previously released Guantanamo detainees had returned to "terrorist activity".
Such rules were eased or left out of the current bill, the National Defense Authorization Act, which was approved by the House of Representatives last week and passed the Senate by an 84-15 vote last night.
Even before final congressional approval, the administration had been showing signs of a more active transfer policy.
In recent weeks, it sent two detainees back to Sudan, two to Saudi Arabia and two to Algeria.
About half of Guantanamo's remaining detainees have been cleared for transfer or release since 2009, but most were blocked from going home because of congressional restrictions.
While more transfers are sure to follow, the White House made clear that it will move carefully.
Nearly four dozen prisoners are considered too dangerous to release.
And Mr Obama can also expect continued pressure from some politicians, including Republican critics, who want to keep Guantanamo open.
"The president has directed the administration to responsibly reduce the detainee population to the greatest extent possible," said National Security Council spokeswoman Caitlin Hayden.
"Even in the absence of transfer restrictions, our long standing policy is to transfer detainees only if the threat posed by the detainee can be sufficiently mitigated and when consistent with our humane treatment policy," she said.
On top of that, complications remain with Yemen, where US officials fear released prisoners might join up with an active al-Qaeda branch.
Yemen's government also has yet to build a long-promised detention centre for any prisoners sent home.