HSE publishes plans for €619m cuts in 2014
Wednesday 18 December 2013 21.47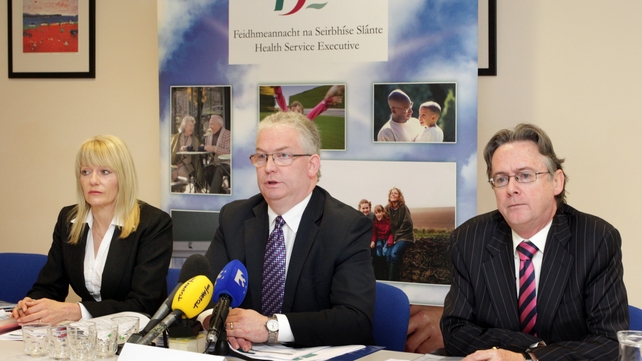 The Health Service Executive has published its service plan for 2014, detailing how €619m in cuts are to be achieved.
HSE Chief Executive Tony O'Brien said that 2014 will be the most financially challenging year in the health service.
The HSE has an underlying deficit of €419m going into next year and has to find savings of €619m.
The Haddington Road Agreement must deliver €140m in savings and €108m is also pencilled into the plan for "unspecified pay savings".
Next year, €23m has to be cut from the cost of medical cards and 15,000 fewer medical cards will be issued.
The HSE needs to cut staff numbers by 2,600, while hospitals will have to deal with their €190m overrun from this year and new cost containment measures.
Free GP care for children aged five years and under is provided for, but there will be no expansion of the BreastCheck screening programme.
More detailed service plans for each HSE region or division of the country will be published in January.
Mr O'Brien said the HSE can come in on budget next year but there are risks.
The main risks are achieving the €108m in "unspecified pay savings" and providing €63m from a pension fund to partly help cover the earlier plan to save €113m on the medical card scheme.
When €113m of savings in the medical card scheme were proposed in October, questions were raised as to how realistic that target was.
This savings target has now been reduced to €23m, to be found in probity measures, ensuring only those entitled to cards have them and that GPs and pharmacists are not overpaid.
Mr O'Brien said a verification process has demonstrated that it would not be possible or desirable to take €113m out of the medical card allocation.
Speaking on RTÉ's Six One News, Mr O'Brien said the decision takes away any fear or alarm that there might have been on the part of medical card holders that their eligibility was going to change.
The HSE said it faced stark choices, either reducing or closing services, or managing reduced funding to minimise the impact on patients and frontline services.
Today's publication will end the longest time the HSE has ever taken finalising the details of a service plan.
The plan has been approved by Minister for Health James Reilly and was discussed at Cabinet yesterday.