Meath co-op fails in bid to buy local community centre at Allsop auction
Tuesday 10 December 2013 21.58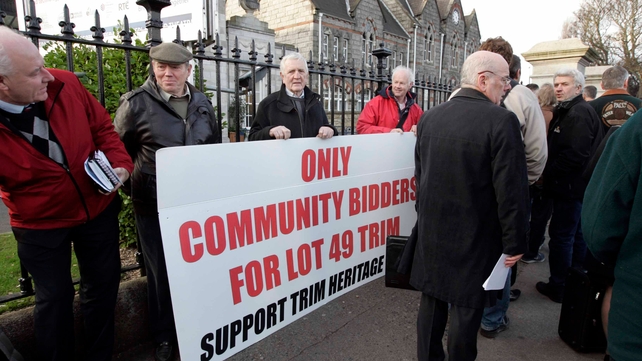 A community group that appealed for nobody to bid against it at an Allsop auction for a property in Trim, Co Meath says members are extremely disappointed that it was sold later to an international buyer.
The Trim Community Heritage Co-operative got 100 people to pledge €1,000 each to try to buy the centre and keep it in community ownership.
Before the property was auctioned today, the chairman of the group stood up in the auction room and appealed to others not to bid. There was just one bid, by the group, for €100,000.
However, it did not match the reserve price of €195,000, and the property was not sold at auction.
After the building was withdrawn, the group says it went into discussions about buying the building.
But tonight, Allsop said the property had been sold to an international buyer for an undisclosed price.
In a statement, Trim Heritage Project Co-Operative Society Limited said it was extremely disappointed to hear of the sale in media reports.
It said that in discussions after the building was withdrawn, the bidder for the co-op was assured that the seller would "stew" on the bid for a few days but would not do anything before checking back with the co-operative for further bids.
Ronan McKenna, who placed the bid for the co-operative, said the group went there today to buy the building for community use.
He said local people provided the funds and wanted to do business.
Co-operative Chairperson Michael Kenny said the seller should have come back and given them the opportunity to negotiate.