Court hears Lawson 'not proud of drug use'
Thursday 05 December 2013 18.58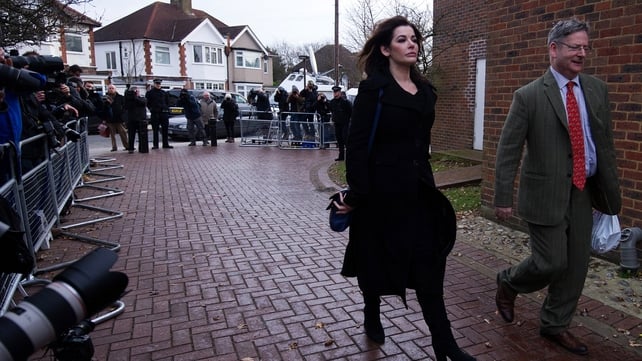 Celebrity chef Nigella Lawson has told a court she is "not proud" of her past drug use in her second day of evidence at the fraud trial of two of her former personal assistants.
Ms Lawson said she would rather be "honest and ashamed" than "bullied with lies" after revealing details of her past drug use.
The TV cook denied her admission she had taken cocaine and cannabis was "damage limitation".
"I'm not proud of the fact I have taken drugs but that does not make me a drug addict or a habitual drug user," she said.
Ms Lawson said she objected to stories "peddled" by her ex-husband Charles Saatchi.
These included that he was checking her nose for cocaine when he was photographed gripping her throat outside Scott's restaurant in central London.
The couple split acrimoniously after the pictures appeared in the media during the summer.
"The fact is, I would rather be honest and ashamed... I wasn't going to be bullied with lies," she said.
"Mr Saatchi was not examining me for cocaine. That's a story he made up afterwards to clear his name."
Under cross-examination by defence barrister Karina Arden, representing Francesca, Ms Lawson denied using her evidence to explain herself in front of "the world's press".
"I felt it was my duty to come," she said.
"I certainly felt it would be an unpleasant experience but that's not a good enough reason not to do one's duty.
"I prefer to keep my private life private."
Ms Lawson denied lying to police when she disputed the drug allegations against her and said it was the "extent" of her drug use that was untrue.
"It was not true in that my ex-husband was saying that he was getting cocaine out of my nose at Scott's and that I had been completely off my head for 10 years," she said.
"I actually did say at the time it was the extent that was not true."
She told the court her first use of cocaine with Mr Diamond was in 1999.
Referring to her admission of drug use yesterday, Ms Arden put it to Ms Lawson that it was "a case on your part of damage limitation".
Ms Lawson replied: "No, I was asked the question and I responded."
The celebrity cook, standing in the witness box wearing the same high-heeled boots as yesterday, took issue with Ms Arden referring to her as "the lady of the house".
Repeating the term back to the barrister, Ms Lawson said: "I don't think it is the job of a woman to run a house."
She said it was the job of herself and Mr Saatchi.
When asked if the multimillionaire Saaatchi Gallery owner really had an interest in the house, Ms Lawson said: "Absolutely. He would go round and point out marks he wanted removed.
"He is a person with a tremendous eye for detail."
Ms Lawson said that among other duties, Francesca would organise Mr Saatchi's frappuccinos and sew buttons on his suits.
Ms Arden asked if Francesca did the food shopping, to which Ms Lawson replied: "I do a fair amount myself."
Ms Arden then said: "This is no criticism of you as a domestic goddess."
Italian sisters Francesca Grillo, 35, and Elisabetta or Lisa, 41, are accused of committing fraud by abusing their positions by using a company credit card for personal gain.
Ms Lawson was again surrounded by press as she arrived at Isleworth Crown Court in west London.
Yesterday she admitted using cocaine and spoke of the "intimate terrorism" she suffered at the hands of former husband Charles Saatchi.
The Grillo sisters of Kensington Gardens Square, Bayswater, London, deny the charge against them.
They are accused of using credit cards loaned to them by Ms Lawson and her ex-husband to spend more than £685,000 (€824,000) on themselves between 2008 and 2012.
Prosecutors claim the Grillos lived the "high life", spending the money on designer clothes and handbags from Louis Vuitton, Christian Dior and Vivienne Westwood.
Jurors were previously read an email sent to Ms Lawson from Mr Saatchi in which he said the Grillo sisters would "get off" on the basis that she was so off her head on drugs that she allowed them to "spend whatever they liked".
She said she took cocaine with her late husband John Diamond when he found out he had terminal cancer, and on another occasion during her troubled marriage to Mr Saatchi.
But the 53-year-old, who also admitted smoking cannabis, said the idea that she is a "drug addict or habitual user of cocaine is absolutely ridiculous".
Ms Lawson told the court the experience of using cocaine "completely spooked" her.