Enda Kenny meets US VP Joe Biden and envoy Caroline Kennedy in Japan
Tuesday 03 December 2013 14.48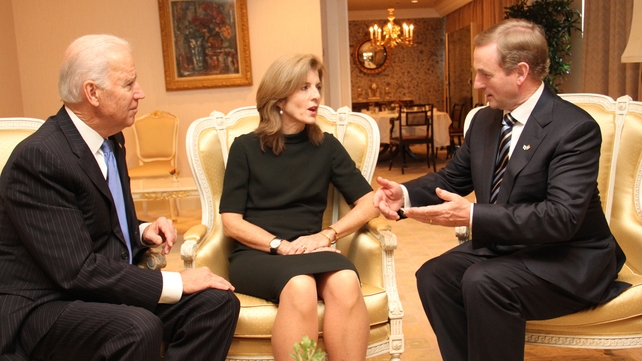 Taoiseach Enda Kenny has met the US Vice President Joe Biden and America's new ambassador to Japan Caroline Kennedy in Tokyo.
Later, Mr Kenny with meet up with Northern Ireland First Minister Peter Robinson and Deputy First Minister Martin McGuinness who are also in Japan this week to hold talks with business representatives and investors.
As part of his tour of East Asia, Mr Biden arrived in Tokyo on a trade mission, and in particular to hold talks with Japan's Prime Minister Shinzo Abe on the growing tensions between Japan and China over China's new air defence zone.
One of Mr Biden's first meetings was with Mr Kenny and Ms Kennedy.
It is understood that the breakfast meeting lasted half an hour.
Later Mr Kenny signed a memorandum of understanding involving the IDA, Enterprise Ireland and the Japan External Trade Organisation.
It aims to promote foreign direct investment and export trade.
Mr Kenny's last engagement today is a reception which will also be attended by Mr Robinson and Mr McGuinness, who are also in Japan to enhance trade and investment opportunities.