The oldest ship in the Naval Service fleet, LÉ Emer, has been decommissioned at a ceremony in Cork.
The vessel has sailed more than half a million nautical miles during her 35 years service, involving national security, fishery protection and the interception of drug and arms shipments.
LÉ Emer was commissioned in January, 1978, one of four ships built for the Navy at Verolme dockyard in Cork.
Emer was the first Naval Service ship to transport Irish troops to South Lebanon to serve with the United Nations in 1979.
In June, 1985, she was involved in the search for bodies when 329 people died in the Air India disaster, 180 miles off the Cork coast.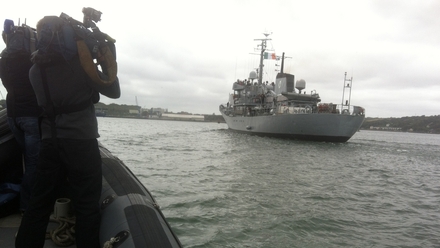 One of her most significant operations came in September, 1984, when Emer intercepted the Marita Ann trawler which was loaded with guns and ammunition for the IRA.
LÉ Emer was decommissioned at a ceremony in Cork.
Lieutenant Commander Alan O'Regan was the last of 23 captains to sail her up-river to Cork.
LÉ Emer is due to be sold at auction next month. She will be replaced by the €50m LÉ Samuel Beckett early next year.