Promoter takes court case over Electric Picnic ticket sales
Tuesday 30 July 2013 22.40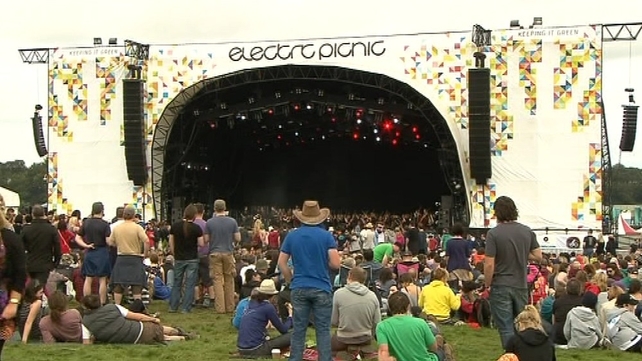 Music promoter John Reynolds has claimed that secret profits were taken from Electric Picnic ticket sales in breach of a shareholders' agreement.
The claim is one of a number being made by Mr Reynolds in his Commercial Court case alleging shareholder oppression.
Mr Reynolds has previously claimed he was excluded from key decisions about the festival, including band selection.
The case was before the Commercial Court again today after efforts at mediation had failed since a previous hearing in April.
The court agreed to a "split hearing" of the case by Pod Music Ltd against Festival Republic Dublin Ltd (FRD).
The issue of liability will be dealt with first.
Mr Reynolds' company POD Music Ltd took the action against FRD, which in 2009 bought a 71% stake in EP Festivals Ltd, a subsidiary of POD.
Mr Reynolds had objected to a split hearing, claiming it was a "tactical manoeuvre" by the respondents to exclude some of his complaints.
He is alleging payments from ticket sales dating back to 2009 due to the operating company were being claimed by other members of the Festival Republic Dublin Group.
He also complains of an unexplained payment of €500,000 in company accounts, involving a secondary ticketing company which sells tickets at "inflated prices".
He claims this was in breach of all arrangements with Ticketmaster and was damaging to the reputation of the festival.
Mr Reynolds also claims his exclusion from acting as Festival Director began in 2012 and included a decision to hire the Killers for the festival that year.
A previous case heard he was alleging the festival was moving to a "one size fits all" or a "Tesco" approach which was damaging the ethos of the Electric Picnic.
In a sworn statement submitted to the Commercial Court today, Mr Reynolds said there were discussions this year as to whether the festival should go ahead because of the "crowded market".
He said he received a text message from Melvin Benn, Managing Director of FRD, saying "cancelling is the right thing to do".
He also claims to have received an email from Mr Benn saying "unless we get Blur we have nowhere to go with the Picnic and I will be recommending not to go ahead".
Lawyers for FRD said the case would be "vigorously contested".
In a sworn statement, a solicitor for the company said Mr Reynolds had been engaging in a deliberately obstructive pattern of behaviour to maximise nuisance and inconvenience.
They said Mr Reynolds was trying to persuade the company to buy out his shares at "grossly inflated prices".
His strategy initially included attempts to prevent the Electric Picnic from going ahead this year.
It is also claimed Mr Reynolds had engaged in a "calculated insistence" the case proceed to trial at the busiest time of the year for the company.
They believe the action had the objective of placing illegitimate pressure on FRD to buy his shares at "a completely unrealistic price" when the company had sustained losses of more than €1m in 2011.
Mr Benn said no funds that properly belonged to the company had ever been diverted elsewhere in the FRD group.
He said claims made by Mr Reynolds in relation to the €500,000 payment were "false and misleading".
He also said any decisions taken about the Electric Picnic were for the benefit of the operating company and not for the benefit of any other companies.
Mr Justice Peter Kelly agreed a split hearing to determine the issue of liability first would save time and money.
However, he urged both sides to try to settle their differences outside of court, saying only a small number of these types of cases actually reached trial.
He adjourned the case to September.