New Egypt constitution approved
Wednesday 26 December 2012 07.25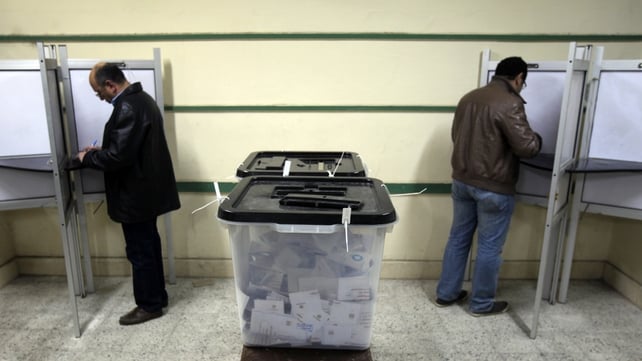 Egypt's new constitution, drafted by Islamist supporters of President Mohamed Mursi, has been approved by 63.8% of voters in a two-round referendum, the supreme election committee said.
The result, which followed votes held on 15 December and on 22 December matched an earlier unofficial tally given by Mursi's Muslim Brotherhood.
"We have seriously investigated all the complaints," judge Samir Abu el-Matti of the Supreme Election Committee told a news conference. The final official turnout was 32.9%.
Opposition groups says the draft is too Islamist and fails to guarantee personal freedoms and the rights of women and minorities.
President Mursi's critics said the vote, conducted in two stages in a process that ended on Saturday, had been marred by a litany of irregularities, and have demanded a full inquiry.
The opposition, a loose alliance of socialists, liberal-minded Muslims and Christians, have also noted that less than a third of those eligible turned out to vote, undermining the legitimacy of the new constitution.
If the Yes vote is confirmed, a parliamentary election will follow in about two months, setting the stage for Islamists to renew their battle with more secular-minded opponents.
Opposition politician Mohamed ElBaradei, a Nobel peace prize winner, urged President Mursi to form an all-inclusive government together with the liberal camp in order to patch up divisions and steer Egypt out of trouble in a democratic way.
"I am ready to join hands with President Mursi on condition that he forms a national (unity) government and speaks as president for all Egyptians," he told the daily Al-Shorouk.
Mr ElBaradei, the former head of the United Nations nuclear agency, said a new assembly should rewrite the draft - a call unlikely to be heeded by Mr Mursi, who is keen to push it through quickly.
The head of the Muslim Brotherhood's Freedom and Justice Party, Saad al-Katatni, wrote on Facebook that the group's members were "extending our hands to all political parties and all national forces", adding: "We will all start a new page."
But the opposition National Salvation Front say the new constitution only deepens a rift between the liberals and Islamists who combined to overthrow Mubarak, and that they will keep challenging it through protests and other democratic means.
"We do not consider this constitution legitimate," liberal politician Amr Hamzawy said on Sunday, arguing that it violated personal freedoms.
The run-up to the referendum was marred by protests triggered by President Mursi's decision to award himself broad powers on 22 November. At least ten people were killed in clashes in Cairo and violence also flared in Egypt's second city, Alexandria.