US soldier sentenced over Afghan abuse pictures
Friday 21 December 2012 16.34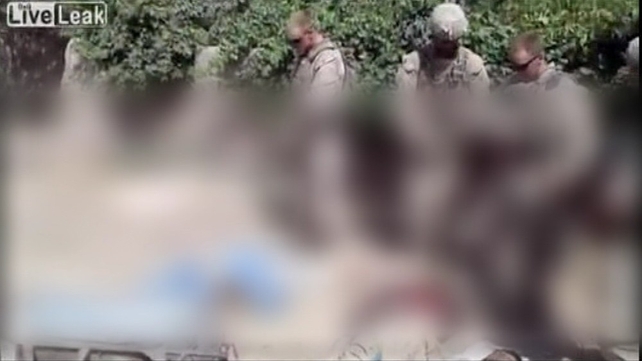 A US Marine staff sergeant who urinated on dead Taliban insurgents and posed for photographs with the bodies has had his rank reduced after pleading guilty to two charges.
Joseph Chamblin pleaded guilty at a special court martial to dereliction of duty for failing to properly supervise junior Marines.
He also pleaded guilty to wrongfully urinating on a deceased enemy combatant.
The incident occurred during a counter-insurgency operation in Helmand Province in Afghanistan in July 2011.
It came to light in January when a videotape of the incident was posted on YouTube and other websites.
The video showed four men in camouflage Marine combat uniforms urinating on three corpses. One of them joked, "Have a nice day, buddy," while another made a lewd joke.
The video was one of a series of offensive incidents involving US service members that angered Afghans and led to heightened tensions between Washington and Kabul earlier this year.
Afghan President Hamid Karzai condemned the actions in the video as "inhuman" and Defense Secretary Leon Panetta denounced the incident as "deplorable" and promise an investigation.
Chamblin was charged with failing to properly supervise junior Marines, failing to require junior Marines to wear protective equipment, failing to report the misconduct of junior Marines, failing to report the negligent discharge of a grenade launcher, and failing to stop the indiscriminate firing of weapons, the Marine Corps said in a statement.
Chamblin waived his right to a jury and pleaded guilty to two counts before a military judge, the statement said.
The judge levied a penalty that including 30 days in jail and a $2,000 fine, but because of a pre-trial agreement Chamblin received a lesser sentence.
The maximum penalty under the agreement was a reduction in rank to sergeant and a forfeiture of $500 in pay for one month, the statement said.
The Marine Corps declined to release details about the evidence or the findings of the investigation because, it said, cases were still pending related to the urination video incident.