Four face treason charge in South Africa
Tuesday 18 December 2012 16.14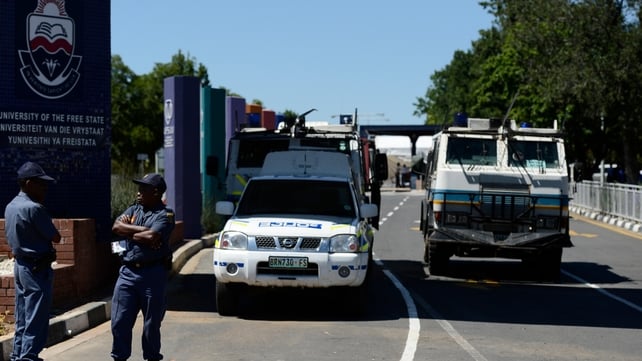 Four South Africans have been charged with treason for plotting to bomb a conference of the ruling African National Congress (ANC) and kill President Jacob Zuma "execution style".
Prosecutor Shaun Abrahams said the men had planned to attack an ANC meeting, currently under way in the city of Bloemfontein.
The four, named as Mark Trollip, John Martin Keevy, Johan Prinsloo and Hein Boonzaaier, were brought into court surrounded by police and security guards armed with assault rifles.
Their lawyers did not enter a plea, and the men, all white and aged between 40 and 50 and dressed in shirts and jeans, remained silent and impassive throughout the 20-minute hearing.
The vast majority of whites accepted the ANC victory in the 1994 election that brought Mandela to power and ended decades of white-minority rule.
However, a tiny minority continues to oppose the historic political settlement.
The attack plan, which the plotters code-named "The Slaughter of Mangaung" - 'cheetah' in the local Sesotho language - included a mortar bomb attack on marquees housing ANC delegates.
That was to be followed by a ground assault targeting Mr Zuma and cabinet ministers as they had dinner, Mr Abrahams told the court.
Mr Zuma and others were to be shot "in execution style", he said.
The intention of the group, which had been trying to buy AK-47 assault rifles, was "directly aimed at eliminating the leadership of this country," Mr Abrahams said.
The plan was about a year in the making, he added, and was timed to coincide with the 16 December anniversary of the 1838 Battle of Blood River, in which fewer than 500 Afrikaners defeated more than 10,000 Zulus.
The four men were detained on Sunday and Mr Abrahams said more arrests were likely to follow.
ANC spokesman Keith Khoza said the suspected plot amounted to "an act of terrorism that South Africa can ill afford".
Jacob Zuma re-elected as head of ANC
Meanwhile, the ANC has re-elected President Jacob Zuma as its leader, setting him up for seven more years as head of state of Africa's biggest economy.
It also chose respected businessman Cyril Ramaphosa as his deputy.
Given the ANC's dominance at the ballot-box less than two decades after the end of apartheid, Mr Zuma, 70, is virtually assured a second, five-year term as President of South Africa in 2014 elections.