Minister says deal to cut Greek debt agreed
Friday 23 November 2012 18.35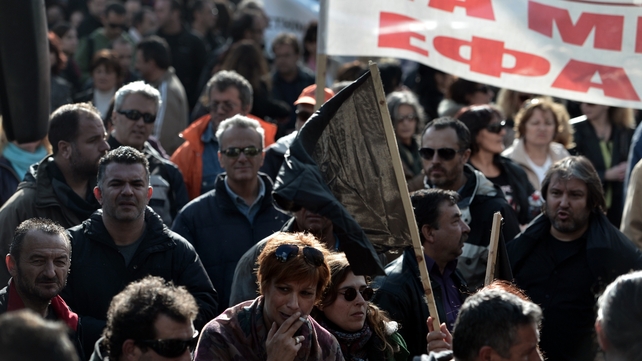 The International Monetary Fund has relaxed its debt-cutting target for Greece and only a €10bn gap remains to be filled for a vital aid tranche to be paid, Greece's Finance Minister said this morning.
However, other sources involved in the talks cautioned that the funding gap was far bigger than that suggested by Greece.
They said that the two sides were not on the verge of striking a deal to resolve the eurozone's most intractable problem.
Greece's Finance Minister signalled that a compromise was near by saying the IMF had agreed to deem the country's debt viable if it falls to 124% of GDP in 2020, giving ground on its earlier target of 120%.
The Eurogroup has already agreed on measures to reduce Greek debt to 130% of GDP in 2020, Yannis Stournaras said.
"That leaves a gap of 5-6 percentage points of GDP to be covered - about €10bn," he told reporters in Brussels.
The EU and IMF are considering bringing the debt down through a combination of interest rate cuts and extension of maturities on the country's loans, a debt buyback and having the ECB forego profits on its Greek bond holdings, a Greek finance ministry official said.
Teetering on the verge of bankruptcy, Greece is increasingly frustrated that its lenders are still squabbling over a deal to unlock fresh aid despite the country pushing through unpopular austerity cuts that brought thousands on to the streets.
Athens says time is running out and that it needs its next tranches of almost €44bn in aid to recapitalise banks and stabilise its recession-hit economy.
Its next big debt repayment is due in mid-December.
It expects the aid to be paid out in one instalment, Greece's government spokesman told Greek radio, playing down recent speculation that it could be dribbled out in instalments.
The euro hit a three-week high against the dollar on growing optimism that Greece's lenders were close to an agreement.
Eurozone finance ministers, the IMF and European Central Bank failed earlier this week to agree how to get the country's debt down to a sustainable level and will make a third attempt at resolving the issue on Monday.
A senior source involved in the negotiations confirmed that the IMF would now accept 124% as a target but was dismissive of the gap amounting to only €10bn.
"There are still things missing to an agreement," the source said. "The €10bn is too optimistic."
A Greek finance ministry official said the ECB could relinquish €9bn of profits on the Greek bonds it holds, as part of the measures to bring debt in 2020 down from a previous estimate of 144% of GDP.
Other options include saving €8bn from cutting the interest rate, extending maturities on Greek debt and spending €10b to buy back around €30bn of debt.
Greece has already begun preparations for the debt buyback, which could be completed by the end of the year if eurozone finance ministers approve the move, the official said.
According to current government projections, Greek debt stands at €340.6bn, or 175.6% of GDP at the end of 2012.
It is expected to peak at €357.7bn, almost 191%, in 2015.
According to a document circulated at the Eurogroup meeting, Greece's debt cannot be cut to 120% of GDP by 2020 unless eurozone member states write off a portion of their loans to Greece, which Germany has said would be illegal.
The document prepared for the meeting of eurozone finance ministers spelled out several options now cited by Greek officials - including using about €10bn to buy back bonds at between 30 and 35 cent in the euro.
Many Greek retail bondholders are still angry from a debt restructuring earlier this year that imposed heavy losses on private holders of Greek debt.
About 40 retail bondholders pushed past security at the co-ruling conservative New Democracy party's offices in Athens today, defaced a portrait of party founder Constantinos Karamanlis and scuffled with guards.