17 soldiers killed in Turkey helicopter crash
Monday 12 November 2012 10.27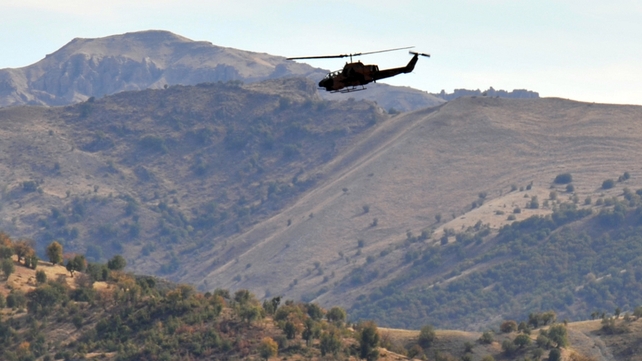 Seventeen Turkish soldiers were killed when their helicopter crashed in southeastern Turkey due to bad weather conditions.
The Sikorsky helicopter crashed on Herekol mountain, in the Pervari area of Siirt province, Siirt Governor Ahmet Aydin said.
The victims were members of the country's gendarmerie special forces and there were no survivors on board.
The Turkish military has been carrying out operations on the mountain in recent months to flush out militants from outlawed separatist group the Kurdistan Workers Party (PKK).
Since summer there has been an upsurge in PKK attacks in southeast Turkey, notably in the Hakkari region.
Turkish jets and helicopters have pounded PKK positions along the border with Iraq and Iran for three days, killing 42 militants, Hakkari's governor said last night.
More than 40,000 people have been killed in the conflict between Turkey and the PKK, which launched its insurgency in 1984 with the aim of carving out a separate state in mainly Kurdish southeast Turkey.
The PKK is designated a terrorist group by Turkey, the United States and the European Union.
Elsewhere, six of Turkey's leading Kurdish politicians have joined hundreds of jailed militants and activists in a hunger strike now in its 60th day.
They want Prime Minister Tayyip Erdogan's government to allow the leader of the banned Kurdistan Workers Party (PKK), Abdullah Ocalan, imprisoned on an island south of Istanbul, to have access to lawyers after 15 months of no contact.
Some 700 Kurdish inmates in dozens of prisons are refusing solid food.
The militants appear to have achieved the aim of being able to speak in their own language in court after the government said it would send a bill to parliament on the matter.
Most of the inmates are either convicted PKK members or accused of links to the group.
The hunger strikers are consuming sugared water and vitamins that will prolong their lives and the protest by weeks.
Turkey's main medical association has warned fatalities are possible from around 60 days without food.