Berlusconi threatens to withdraw Monti support
Saturday 27 October 2012 22.40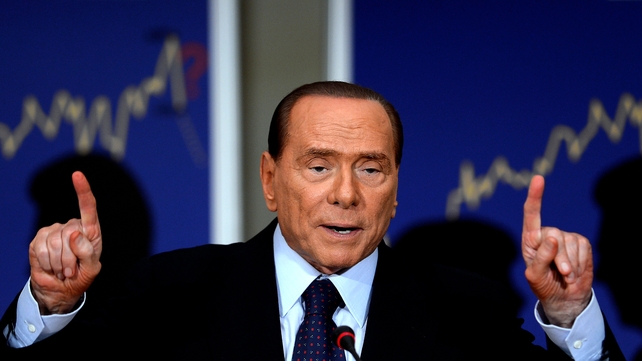 Former Prime Minister Silvio Berlusconi has said his centre-right bloc may withdraw its support from the government of Mario Monti.
A move like that could throw Italy into political chaos ahead of next April's national elections.
"We have to recognise the fact that the initiative of this government is a continuation of a spiral of recession for our economy," Berlusconi told a news conference in northern Italy a day after he was convicted and sentenced to four years for tax fraud related to his Mediaset media empire.
"Together with my collaborators we will decide in the next few days whether it is better to immediately withdraw our confidence in this government or keep it, given the elections that are scheduled," he said.
The Monti government of non-elected technocrats is supported by the centre-left, the centre-right and the centre.
It would lose its majority and have to resign if the entire centre-right, including Berlusconi's PDL party, withdrew support.
Mr Monti took office as prime minister last November when Italy's bond yields were soaring.
He has pushed through tax hikes, spending cuts and a pension overhaul to cut public debt which is running at 126% of gross domestic product, according to the International Monetary Fund.
Unemployment in Italy has risen to 10.7%, its highest level since monthly records began in 2004, and unions are locked in disputes with companies over plant closures and layoffs.
Berlusconi, a 76-year-old billionaire media magnate, gave no precise timing for when the decision on whether to keep supporting Mr Monti or not would be made.
An indication of the centre-right's strength will come on Sunday when Sicilians go to the polls to elect a new regional government.
Berlusconi has confirmed he will not be a candidate for the post of prime minister in the national elections next April.
Earlier, Berlusconi had said that he will stay in politics, saying that he felt "obliged to stay in the field" in order to protect other Italians from what he called judicial injustices.
This prompted speculation he had changed his mind after a Milan court convicted him of tax fraud on Friday.
He also described the one-year jail sentence he has been given for tax evasion as unbearable.
Speaking on television in Italy, Berlusconi accused the judiciary of attacking him for political reasons.
Lawyers for Berlusconi are to appeal against his jail sentence, a process that could take several years.
Prosecutors had brought the case against Berlusconi and ten other co-defendants over the purchase of rights to broadcast US films on Berlusconi's Mediaset empire.
Berlusconi said: "If you can't count on impartial judges in a country, the country becomes uncivil, barbarian and unliveable and stops being a democracy.
"It's sad, but the situation of our country today is that way."
Berlusconi has been convicted of lesser crimes in past trials, but they have always been thrown out on appeal.
"I was sure to be acquitted from an accusation that is out of reality. This conviction is political, incredible and unbearable, we can't go on like this," he said.
"It proves that there is a persistent judiciary attack against me and that there is a political usage of the justice."
He is also on trial in Milan on a charge of paying for sex with a Moroccan teenager and trying to cover it up.