The British government has downgraded the level of threat from Irish republican dissidents following steady progress towards peace.
MI5 has lowered the level to moderate, the second lowest of five levels, from substantial.
"This means that a terrorist attack is possible, but not likely," said UK Interior Minister Theresa May.
The threat level remains severe in Northern Ireland where dissidents have remained active.
Dissident republican activists have scaled back attacks on England in the years since the Good Friday Agreement.
The 1998 agreement brought to an end three decades of sectarian violence that killed 3,600 people in Northern Ireland.
The last spate of violence by republican dissidents in England took place in the years immediately following the peace talks, when the Real IRA claimed responsibility for several attacks in 2000 and 2001.
The British government believes the chances of an attack in Northern Ireland by groups based there remain "highly likely".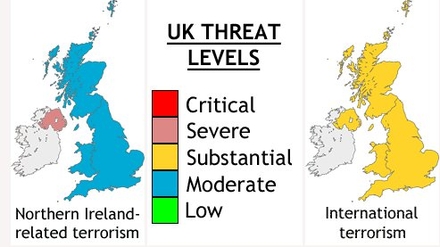 Britain's focus on combating terrorist attacks has shifted over the last decade to dealing with threats from Islamist militants.
Fears of an attack during the London Olympics this year proved unfounded.
In 2005, suicide bombings on London's transport system killed 52 people.
"Despite the change which has been made today, there remains a real and serious threat against the United Kingdom from terrorism," said the Interior Minister.
The threat level from international militants remains at substantial.