Protest over SNA cuts in schools
Tuesday 21 June 2011 22.01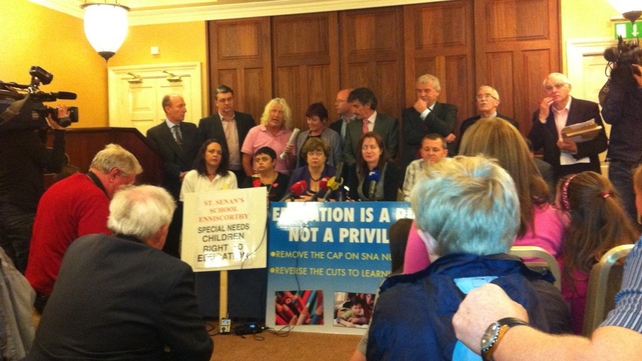 The Government has been urged to restore the full number of Special Needs Assistants in schools at a protest outside Leinster House.
On Friday, it was confirmed 200 SNA positions would be cut to comply with the cap agreed under the EU/IMF deal.
The 16 TDs in the technical group, independents and members of smaller parties held a news conference to criticise the cuts.
Around 70 parents, children, teachers and politicians protested.
At the news conference deputies including Socialist TD for Dublin North Clare Daly and Wexford Independent TD Mick Wallace said they would use their Dáil platform to demand the cuts be reversed and that full numbers of SNAs would be restored.
They say it is an outrage that the most vulnerable in society are being asked to pay the price for the mismanagement of the economy.
Some of the SNAs from Co Wexford who were at today's protest have already been served official notice and will not have jobs from September.
Parents are handing in a letter to the education Minister Ruairi Quinn urging him to maintain current special needs staffing levels.

Parent Margaret Wickham from St Senan's School in Enniscorthy said if special needs pupils do not get the care they need now they would need long-term residential care in the future.