Greece at 'the edge of the abyss'
Wednesday 05 May 2010 22.13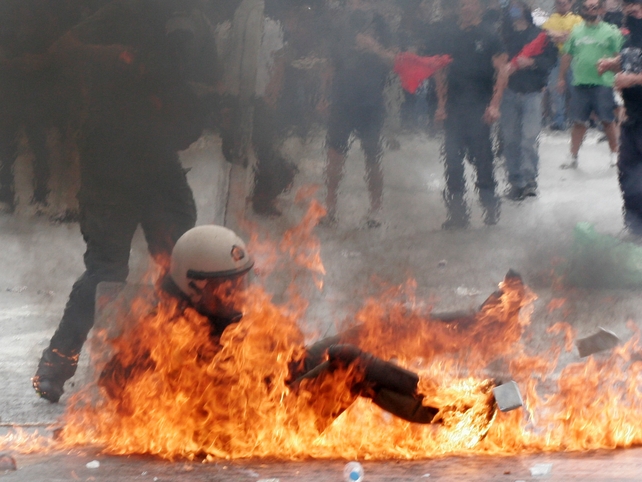 Greek President Carolos Papoulias has said the debt-hit country had 'reached the edge of the abyss' as violence during anti-austerity protests left three people dead.
In a statement Mr Papoulias said: 'It is the responsibility of us all to not take the step into the void'.

The three people were killed in a fire bomb attack on a bank in central Athens during a protest march.
Police said two women, one of whom was pregnant, and one man choked on smoke in the burning bank, while firefighters said about 20 people had been inside when it was attacked.
The bank caught fire after hooded youths hurled petrol bombs at it on the sidelines of demonstrations in central Athens.
Greek Prime Minister George Papandreou expressed shock at the deaths and vowed to bring those responsible to justice.
'We are deeply shocked by the unjust death of these three people, our fellow citizens, who were victims of a murderous act,' he told parliament.

Hundreds threw chunks of marble and sticks at police. Greek officers fired tear gas at protestors trying to break through a police line in front of the parliament.
Protests have swept the country with public transport paralysed, ferries not leaving the docks and air traffic grounded.
'About 50 people tried to enter parliament. Police used tear gas and flash bombs to disperse them,' a witness told Reuters.

Hundreds of thousands of civil servants kicked off the protests yesterday and a group of about 200 people stormed the Acropolis, unfurling banners reading 'Peoples of Europe, Rise Up'.
Greece's main unions gathered in central Athens at 9am (Irish time) before moving through the streets of the capital.
May Day marches on Saturday led to clashes between protestors and police who fired tear gas to restore order.
Pushed to the brink of default, the government agreed at the weekend to slash spending and increase taxes in return for €100bn in loans over three years from eurozone countries and the International Monetary Fund.
Among the major measures, the Greek government is to cut 13th and 14th month bonus pay for civil servants and retirees; require three years more for pension contributions and raise the retirement age for women to 65, the same level as men currently.
European stock markets and the euro fell sharply again this afternoon after a Moody's rating agency warned that it could downgrade Portugal's debt.
The move has fuelled fears that the debt crisis affecting Greece could spread to other eurozone countries.
European Commission President Jose Manuel Barroso has launched a fierce attack on financial market speculation.

He told the European Parliament in Brussels that the Commission could move quickly to further regulate markets if they acted irresponsibly.

'The Commission will do whatever necessary to ensure that financial markets are not a playground for speculation,' Mr Barroso said, adding that financial institutions should not forget what they were created for.

Lenihan says Ireland not at risk
Minister for Finance Brian Lenihan has said that Ireland is not at risk from the fallout of the Greek crisis and any potential future hit would be as part of European-wide risk.
He said Ireland does not have the severe structural problems that some Mediterranean countries have and that Ireland would see a 'measurable' return to growth in the last quarter of this year.
'If real risks materialised in relation to Ireland, they would be paralleled in a European-wide crisis in the financial system and we're not at that point,' he said.

Meanwhile, the Government has approved the terms of Ireland's participation in the EU rescue package for Greece.
Legislation is now being drawn up to underpin the scheme and will be brought before the Dáil in the next few weeks.
Ireland will lend Greece €500m this year and up to €1.3bn in total over the next three years.