Taoiseach welcomes 'decisive step'
Saturday 03 October 2009 22.33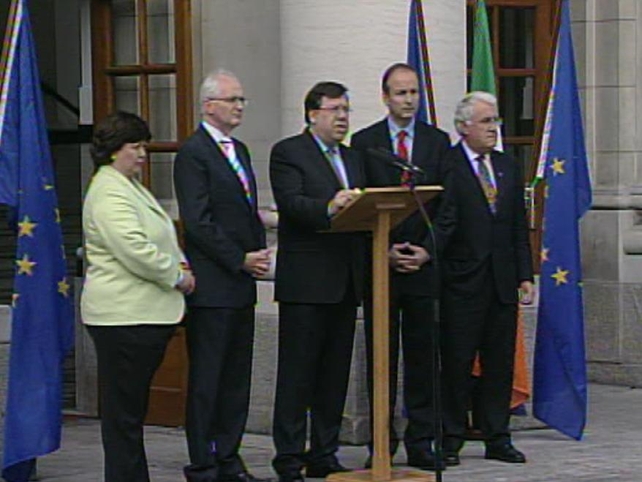 The Taoiseach has described the Lisbon referendum result as a decisive step for a 'stronger, fairer, better, Ireland and Europe.'
'The Irish people have spoken with a clear and resounding voice'.
Read about the result and international reaction
The Treaty passed by a margin of 67.1% to 32.9%.
'It's a good day for Ireland and it is a good day for Europe,' Brian Cowen said.
The Taoiseach said that with this result, Ireland has indicated to other countries in Europe that it seeks to move forward together.
Reacting to the No vote in her own constituency, Tánaiste Mary Coughlan said that two weeks ago she was aware that it was going to be difficult and that more work was needed because there was still mixed messages about the Treaty out there.
She said abortion and the minimum wage were two areas of concern that left people unsure as to how to vote.
As Tánaiste and Minister for Enterprise Trade and Employment she said she was delighted with the national result, adding that it will be a very strong message for the foreign direct investment community in Ireland.

Also welcoming the result, Green Party leader John Gormley said the Treaty would allow progress on green issues like climate change.
Fine Gael leader Enda Kenny said the result was a mature, reflective decision and the people had risen above cynicism, frustration and anger and had put Ireland first.
Mr Kenny said a month ago he had said Fine Gael would run a positive campaign and that is what they had done.
The result showed that the voters could differentiate between national issues and the issues put forward during the Lisbon campaign.

Labour Party leader Eamon Gilmore described the Yes vote as a sensible, necessary one that had been achieved despite the unpopularity of the Government.

On the No side, Socialist Party MEP Joe Higgins said he accepted that the Lisbon Treaty had been endorsed by the Irish public but stressed that the No campaign had performed well.
Sinn Féin President Gerry Adams said the Irish political establishment had ignored the decision of the Irish voters after the first Lisbon Treaty referendum and they would regret the day they ignored the views of no voters this time.
The party's Vice President Mary Lou McDonald also claimed the Yes campaign had won by pushing 'a dishonourable and depressing' message to people.
Libertas founder Declan Ganley praised the Taoiseach for running a 'politically masterful' campaign.
Cóir's Richard Greene said the war goes on, adding that wages and conditions would be diminished.

Separately, Director General of the Irish Business and Employers' Confederation Danny McCoy said the vote 'will lead to an EU that is better able to face the challenges ahead and reaffirms Ireland's long-standing, positive and constructive role in Europe'.

Also welcoming the Yes vote, Irish Farmers' Association President Padraig Walshe thanked farm families for turning out in large numbers to contribute to the result.
Mr Walshe said farm families recognise the importance of staying at the heart of Europe.