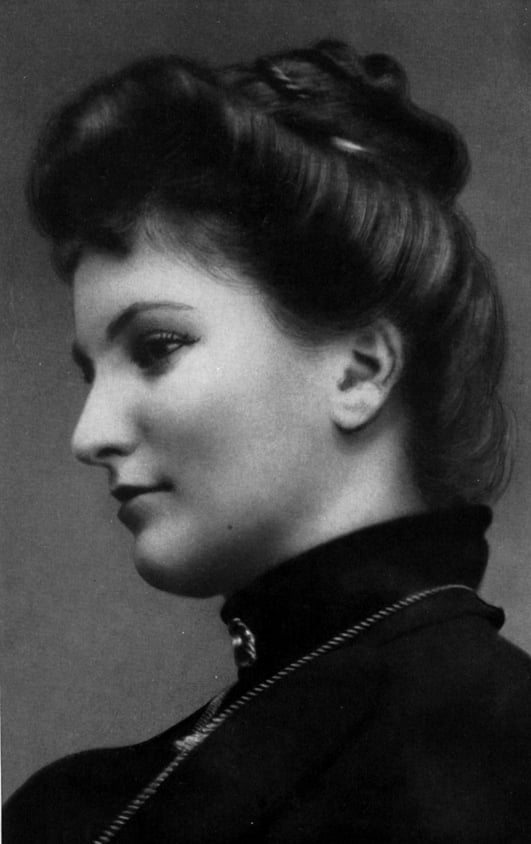 Musicall Muses- Programme 3 Alma Mahler
There could be no other muse with quite such a broad spectrum in the arts as Alma Schindler. Wife to three great men, composer Gustav Mahler, the Bauhaus architect Walter Gropius and the novelist Franz Werfel. Then there were her lovers, composer Alexander Zemlinsky and painters Klimt and Kokoschka. Musically active from her teens, she was the composer of at least seventeen songs for voice and piano. In later years her salon became an important feature of the artistic scene, first in Vienna, then in Los Angeles.


MUSICAL MUSES No. 3 2013
As recorded 27th June 2013
"The Most Beautiful Girl in Vienna" - Alma Mahler
1 Mahler Symphony 5 New Philharmonia conducted Barbirolli EMI 5 66910
2 Zemlinsky Lyric Symphony Concertgebouw Orchestra conducted Riccardo Chailly Decca 443 569
3 Alma Mahler Bei dir ist es traut Decca 455 112 Concertgebouw conducted Riccardo Chailly
4 Mahler Symphony 4 City of Birmingham Symphony Orchestra conducted Simon Rattle EMI 5 56563
5 Mahler Symphony 3 City of Birmingham Symphony Orchestra conducted Simon Rattle EMI 5 56657
6 Mahler Rückert Songs – "Liebst du um Schönheit"
Thomas Hampson, Wolfram Rieger EMI 5 56443
7 Mahler Sixth Symphony Berlin Philharmonic conducted Karajan
DGG 415 099
8 Olive Fremstad Wagner: Tristan "Mild und Leise"
Pearl GEMM CDS 9923
9 Mahler Symphony 10 Philadelphia Orchestra conducted Eugene Ormandy SONY 78742
10 Mahler Symphony 8 London Symphony Orchestra and Chorus conducted Simon Rattle
11 Alma Mahler "Ich wandle unter Blumen"
Charlotte Margiono Brabant Orchestra conducted Julian Reynolds
Globe GLO 5199
12 Mahler Symphony 5 New Philharmonia Barbirolli EMI 5 66910
13 Mahler Song of the Earth Thomas Harper RTE NSO conducted Michael Halasz Naxos 8.55 0933
14 Mahler Symphony 9 CD Berlin Philharmonic conducted Karajan
DGG 410 726
15 Berg "Wozzeck" Staatskapelle Berlin conducted Barenboim Teldec 14108
16 Berg Violin Concerto Kyung-Wha Chung Chicago SO Solti
Decca 460 005
17 Alfred Newman "Song of Bernadette"
Fox Classics - Varese Sarabande YSD - 5937
18 Korngold Violin Concerto Gil Shaham London Symphony Orchestra conducted Andre Previn DGG 461 834
19 Britten Nocturne "When most I wink Peter Pears English Chamber Orchestra conducted Benjamin Britten Decca 417 153
Keywords
The Lyric Feature is RTÉ lyric fm's weekly documentary and music feature programme. Programmes are produced in house by RTÉ lyric fm staff or in collaboration with independent production companies. Subject matter varies from week to week but most of the programmes aim to provide insight into music and music making.
The Lyric Feature is currently accepting proposals from independent producers and production companies for the BAI's Sound and Vision III Round 24. See here for details
---
MUSIC PLAYED ON THE SHOW
FRIDAY 29th JANUARY - THE SOUNDS OF GRIEF
Title: THE IRIS GARDEN
Composer: GLEN AUSTIN
Performer: CONTEMPO QUARTET
Album: THE MOUNTAIN ASH IN CONNEMARA
Record Label: JOAN MCBREEN
Record Number: JMCB 1402
Title: CAOINEADH
Composer: TRAD
Performer: SARAH GREALISH
Title: LAMENT FROM BANGLADESH
Composer: TRAD
Performer: LATIFA
Title: FUNERARY SUNG-WEEPING BY HANE
Composer: TRAD
Performer: HANE
Album: BOSAVI: RAINFOREST MUSIC FROM PAPUA NEW GUINEA
Record Label: SMITHSONIAN FOLKWAYS RECORDINGS
Record Number: SFW40487
Title: LAMENT FOR DEAD MOTHER/BOCET
Composer: TRAD
Performer: UNKNOWN
Album: FOLK MUSIC OF RUMANIA
Record Label: FOLKWAYS RECORDS
Record Number: FW04419
Title: KEEN FOR A DEAD CHILD
Composer: TRAD
Performer: KITTY GALLAGHER/CITINI GHALLCHOIR
Album: WORD LIBRARY OF FOLK AND PRIMITIVE MUSIC: IRELAND
Record Label: ROUNDER RECORDS
Record Number: CD 1742
Title: KEEN FOR ART O'LEARY 1
Composer: TRAD/EIBHLIN DUBH NI CHONAILL
Performer: BREANDAN O MADAGAIN
Album: CAOINTE AGUS SEANCHEOLTA EILE KEENING AND OTHER OLD IRISH MUSICS
Record Label: MOC MUSIC
Record Number: LC 04986
Title: CAOINEADH NA MARBH/CAOINE FOR THE DEAD
Composer: TRAD
Performer: ARAN FEMALE SINGER/BRIDGET MULLIN
Album: SONGS OF ARAN
Record Label: FOLKWAYS RECORDS
Record Number: FW04002
Title: GOL NA DTRI MUIRE/THE WEEPING OF THE THREE MARYS
Composer: TRAD/ARR NOIRIN NI RIAIN
Performer: NOIRIN NI RIAIN/MONKS OF GLENSTAL ABBEY
Album: CAOINEADH NA MAIGHDINE
Record Label: GAEL-LINN
Record Number: CEFCD 084
Title: I AM STRETCHED ON YOUR GRAVE
Composer: TRAD/KING/ARR. O'CONNOR
Performer: SINEAD O'CONNOR
Album: I DO NOT WANT WHAT I HAVEN'T GOT
Record Label: CHRYSALIS RECORDS
Record Number: CCD1759
Title: DIRGE ON THE MOTHER'S GRAVE/KUOLINITKU AIDIN HAUDALLA
Composer: ANNA ANDREJEVNA SUTJAJEVA IN HAUDALLA
Performer: ANNA ANDREJEVNA SUTJAJEVA IN HAUDALLA
Album: ITKUJA KARJALASTA, INKERISTA, SUOMESTA: LAMENTS FROM KARELIA, INGRIA, FINLAND
Record Label: SKS
Record Number: 6420614440018
Title: LAMENT IN FINNISH
Composer: JIM WILCE
Performer: JIM WILCE
Album: N/A
Title: GRAIH MO CHREE
Composer: TRAD
Performer: CAIT BRANIGAN
Title: GRIEF
Composer: EITHNE NI UALLACHAIN/DONAL O'CONNOR
Performer: EITHNE NI UALLACHAIN/DONAL O'CONNOR/GILLES LE BIGOT
Album: BILINGUA
Record Label: GAEL-LINN
Record Number: CEFCD206