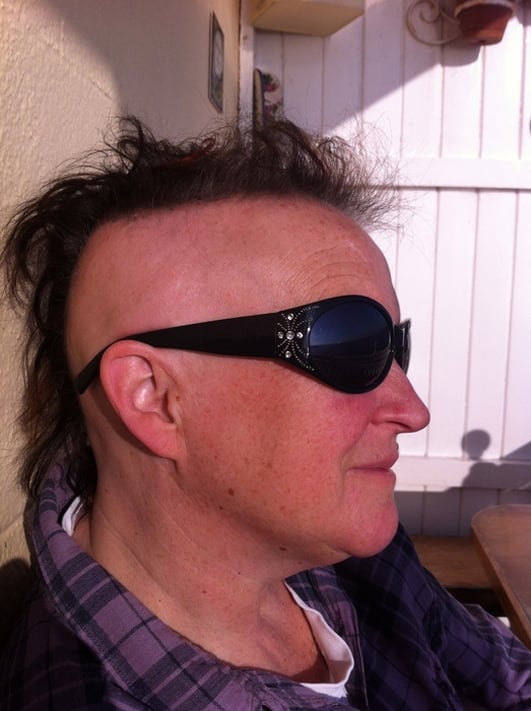 The Lyric Feature Friday 21st June 2013
Bespoke
The second of three programmes celebrating poetry.
"Voice helps to carry words farther and deeper than eye." Seamus Heaney
A miscellany of poetry and music including archive gems from the RTÉ Spoken Word Vinyl Archive and beyond. From Shakespeare to Laurie Anderson, Kipling to Leonard Cohen and Roger Moore to Paula Meehan.
Presented and produced by Eithne Hand

BESPOKE TWO – Words and Music Played
Lovesong by Ted Hughes, from CD Poetry on Record. Published in Collected Poems by Faber
Wuthering Heights by Kate Bush, read by Albert Niland from CD A Night in Dublin
The Lost Girls by Derek Mahon, from RTÉ Archive. Published in Collected Poems by Carcanet Press
Charlie Parker by Jack Kerouac and Steve Allen, from CD Poetry for the Beat Generation, published by Rhino Records
Summertime by Ira and George Gershwin Charlie. Parker on CD Someone to Watch Over Me by George and Ira Gershwin
Daddy by Sylvia Plath, from CD Poetry on Record. Published in Collected Poems by Faber
Hum Bom by Allen Ginsberg, from CD Holy Soul Jelly Roll, published by Ginsberg Recordings
Dark Angel by Laurie Anderson, from CD Life on a String
Didgeridoo by dePaor and Browne, from RTÉ Archive (Arena 2012)
I Wonder Whether One Expects by Thomas Kinsella, from RTÉ Archive. Published in Selected Poems by Carcanet Press
Green by Ken Nordine, from CD Colours, published by Asp Label (1995)
Song of Solomon from the King James Bible, read by Emma Fielding on Naxos CD Popular Poetry Vol. 2
Contrapunctus II by Glenn Gould, from CD The Art of the Fugue, published by Sony
Bach Haiku by Gabriel Rosenstock, from RTÉ Archive (2007)
One Art by Elizabeth Bishop, read by Charles Dance, from CD Catching Life by the Throat, published by Virago Press/Hachette CD
Simple Twist of Fate by Bob Dylan, from CD Blood on the Tracks
Take a Breath, Hold It, Let It Go by Paula Meehan, from RTÉ Archive and published by Carcanet Press
Fado dos Horas by Dom Antonio de Braganca, sung by Marie Teresa de Noronha on CD O Melhor De
Ballad of Reading Gaol (extract) by Oscar Wilde, read by Neil Toibin on RTÉ CD
Music to Hear: Why Hearest Thou Music Sadly? by Shakespeare, read by Ladysmith Black Mombasa on CD When Love Speaks, published by RADA/ EMI
Keywords
The Lyric Feature is RTÉ lyric fm's weekly documentary and music feature programme. Programmes are produced in house by RTÉ lyric fm staff or in collaboration with independent production companies. Subject matter varies from week to week but most of the programmes aim to provide insight into music and music making.
The Lyric Feature is currently accepting proposals from independent producers and production companies for the BAI's Sound and Vision III Round 24. See here for details
---
MUSIC PLAYED ON THE SHOW
FRIDAY 29th JANUARY - THE SOUNDS OF GRIEF
Title: THE IRIS GARDEN
Composer: GLEN AUSTIN
Performer: CONTEMPO QUARTET
Album: THE MOUNTAIN ASH IN CONNEMARA
Record Label: JOAN MCBREEN
Record Number: JMCB 1402
Title: CAOINEADH
Composer: TRAD
Performer: SARAH GREALISH
Title: LAMENT FROM BANGLADESH
Composer: TRAD
Performer: LATIFA
Title: FUNERARY SUNG-WEEPING BY HANE
Composer: TRAD
Performer: HANE
Album: BOSAVI: RAINFOREST MUSIC FROM PAPUA NEW GUINEA
Record Label: SMITHSONIAN FOLKWAYS RECORDINGS
Record Number: SFW40487
Title: LAMENT FOR DEAD MOTHER/BOCET
Composer: TRAD
Performer: UNKNOWN
Album: FOLK MUSIC OF RUMANIA
Record Label: FOLKWAYS RECORDS
Record Number: FW04419
Title: KEEN FOR A DEAD CHILD
Composer: TRAD
Performer: KITTY GALLAGHER/CITINI GHALLCHOIR
Album: WORD LIBRARY OF FOLK AND PRIMITIVE MUSIC: IRELAND
Record Label: ROUNDER RECORDS
Record Number: CD 1742
Title: KEEN FOR ART O'LEARY 1
Composer: TRAD/EIBHLIN DUBH NI CHONAILL
Performer: BREANDAN O MADAGAIN
Album: CAOINTE AGUS SEANCHEOLTA EILE KEENING AND OTHER OLD IRISH MUSICS
Record Label: MOC MUSIC
Record Number: LC 04986
Title: CAOINEADH NA MARBH/CAOINE FOR THE DEAD
Composer: TRAD
Performer: ARAN FEMALE SINGER/BRIDGET MULLIN
Album: SONGS OF ARAN
Record Label: FOLKWAYS RECORDS
Record Number: FW04002
Title: GOL NA DTRI MUIRE/THE WEEPING OF THE THREE MARYS
Composer: TRAD/ARR NOIRIN NI RIAIN
Performer: NOIRIN NI RIAIN/MONKS OF GLENSTAL ABBEY
Album: CAOINEADH NA MAIGHDINE
Record Label: GAEL-LINN
Record Number: CEFCD 084
Title: I AM STRETCHED ON YOUR GRAVE
Composer: TRAD/KING/ARR. O'CONNOR
Performer: SINEAD O'CONNOR
Album: I DO NOT WANT WHAT I HAVEN'T GOT
Record Label: CHRYSALIS RECORDS
Record Number: CCD1759
Title: DIRGE ON THE MOTHER'S GRAVE/KUOLINITKU AIDIN HAUDALLA
Composer: ANNA ANDREJEVNA SUTJAJEVA IN HAUDALLA
Performer: ANNA ANDREJEVNA SUTJAJEVA IN HAUDALLA
Album: ITKUJA KARJALASTA, INKERISTA, SUOMESTA: LAMENTS FROM KARELIA, INGRIA, FINLAND
Record Label: SKS
Record Number: 6420614440018
Title: LAMENT IN FINNISH
Composer: JIM WILCE
Performer: JIM WILCE
Album: N/A
Title: GRAIH MO CHREE
Composer: TRAD
Performer: CAIT BRANIGAN
Title: GRIEF
Composer: EITHNE NI UALLACHAIN/DONAL O'CONNOR
Performer: EITHNE NI UALLACHAIN/DONAL O'CONNOR/GILLES LE BIGOT
Album: BILINGUA
Record Label: GAEL-LINN
Record Number: CEFCD206