Coming up on Friday's programme…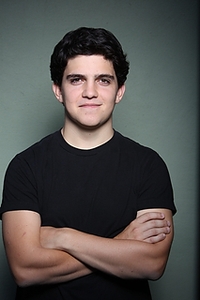 Jodie Landau (pictured) is a 23-year-old vocalist-composer-percussionist (he plays vibraphone and marimba). His own compositions fuse elements of rock, jazz, electronica, film and chamber music. During the summer of 2014, Landau visited Iceland to work on a live concert/studio recording project with Graduale Nobili, the choir that had teamed up with Bjork for her "Biophillia" album. On tonight's programme, we'll hear a selection from Landau's forthcoming release "You of All Things", the result of his trip to Reykjavík.
Also on Friday's BLUE, a choral work by Transylvania-born Hungarian composer Gyorgy Orbán; Steve Cooney's jam of "Well Below The Valley"; Chick Corea, interpreting Bill Evans material; Peter Gabriel's "Sledgehammer", transcribed for an orchestra of ukuleles; Alfred Brendel, performing Beethoven's "Emperor" concerto; blues artist Kris Dollimore (who'll be appearing in Monaghan tomorrow night); an original piece by guitarist Juan Martín; symphonic Shostakovich; the incomparable Stan Getz; and more from Memphis Slim (see BLUE TUNES, below). 10pm start...