Coming up on Friday's programme…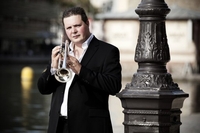 May 22. Tonight, classical guitarist Raphaella Smits plays a 19th century piece by Bratislava-born Johann Kaspar Mertz; Frank Sinatra croons Matt Dennis; Jan Lundgren leads a piano trio on an instrumental album of Dennis songs; Choir of Clare College, Cambridge, sing something for the weekend, from a recent recording of music for Ascensiontide and Pentecost; more artists sing Dylan (see BLUE TUNES, below); the twin saxophones of Hodges and Gonsalves portray the star-crossed lovers for Ellington; and we hear a track from the new CD by Romain Leleu (pictured), which features trumpet concertos dating from the 20th and 21st century.
Note - a 10:40pm start-time (approx), immediately following tonight's Friday Concert (which is available to view as a live stream)...