Coming up on the next programme...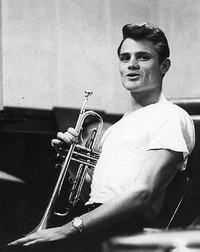 July 26. This Saturday night on BLUE, we'll hear Lalo Schifrin's impressions of his own, and Debussy's, music; Anne Sofie von Otter duetting with Brad Mehldau; Arvo Part x 2; Billy Bragg's "Tommorow's Going To Be A Better Day"; a Bragg tune on the new solo piano CD by Elan Mehler (specifically, "Way Over Yonder In The Minor Key"; melancholy courtesy of Chet Baker (pictured) and Tim Buckley; more Talich Quartet (see BLUE TUNES, below), including a Mendelssohn fugue; a Mendelssohn piece performed on piano by Howard Shelley; plus singer/songwriters Laura Veirs and Agnes Obel.
Eamonn's in the BLUE chair from no later than 10:10pm...